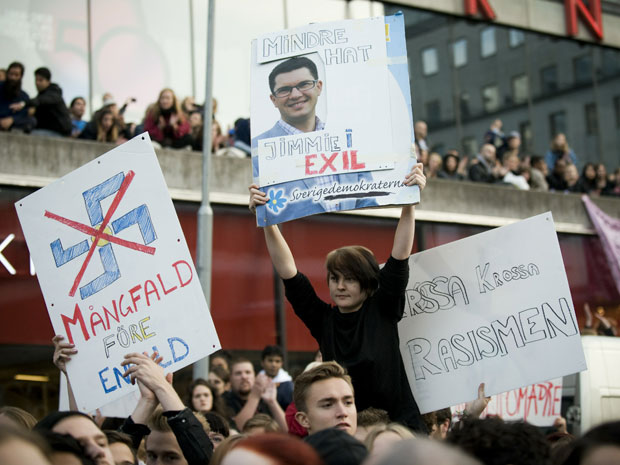 Thousands of people gathered in a central Stockholm square Monday evening to protest against a far-right party that has been voted into parliament, waving banners and shouting "No to racism!"
At around 6:00 pm (1600 GMT) some 6,000 people, some waving banners stating "Yes to togetherness, No to racism" and "No racists in parliament," gathered in Stockholm's Sergels Torg, according to a police estimate.
The peaceful gathering was spontaneously organized by a 17-year-old girl from the Stockholm suburb of Sollentuna, Felicia Margineanu, who was so disappointed by the election results she posted a protest call on her Facebook page, the Expressen daily reported.
"We don't like those racists in the Riksdag. Being here shows the government that we care, that we don't want them [the Sweden Democrats] in parliament," said 18-year-old Younes Sedik, wearing a black T-shirt with orange lettering stating "I'm a Muslim. Don't panic!"
Standing near banners pointing out that "9,043,222 Swedes did not vote for the Sweden Democrats yesterday," and that "94.3% of the people are not racists," 21-year-old Thomas Zebuehr said he was "really unhappy" the far-right passed the four-percent barrier for entering parliament.
A spontaneous demonstration against the Sweden Democrats also gathered in Sweden's second largest city Gothenburg Monday evening, with up to 1,000 people participating, the TT news agency reported.
Another large demonstration is planned to be held in Stockholm on October 4.