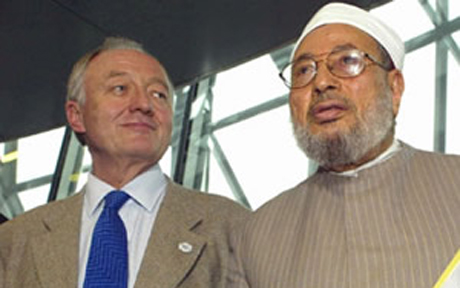 "Yusuf al-Qaradawi is in the news these days, denounced on a daily basis on Saudi, Palestinian and Egyptian op-ed pages, forums and TV over his stances on Gaza, on Hamas and Abu Mazen, on Yemen, and more.
"Following those controversies is an excellent window into what divides and arouses passion in Arab politics today. Hate him or love him, the man has a keen sense of Arab opinion – whether he's following or leading it – and has a proven track record of driving the debate. The fury of his adversaries on the other side of the so-called 'new Arab cold war' is a pretty direct function of the fact that his opinions, aired on al-Jazeera and spread through multiple online and real-world networks, matter….
"The Qatar-based Islamist is many things – a leading Islamist intellectual, a key figure in a wide set of interlocking global Islamist networks, a television star on al-Jazeera, a prolific author, a defender of Hamas, an Islamic internet pioneer…. His finely-tuned finger to the wind remains one of the most useful barometers of Arab public opinion."
Marc Lynch analyses Qaradawi's central role in political debates in the Arab world.
Foreign Policy blog, 21 January 2010
See also "Qaradawi slams attack against Egypt Christians", The Peninsula, 23 January 2010