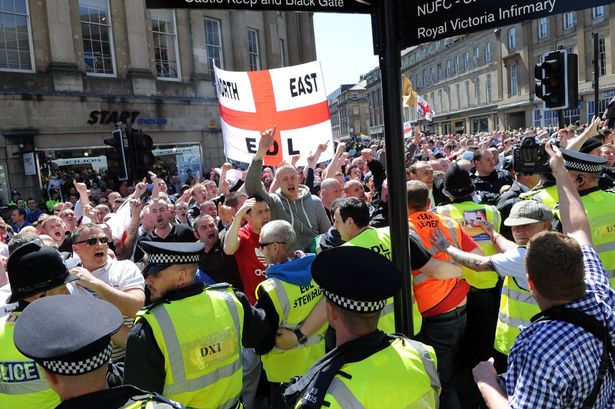 The English Defence League marched through Newcastle today. The local paper, the Evening Chronicle, reported that around 1,500 EDL members participated in the protest, with up to 1,000 joining the counter-demonstration by Newcastle Unites. (See also ITV News and Sky Tyne and Wear reports.)
Chanting their usual slogans of "I'm English till I die" and "Whose streets? Our streets", the EDL threw firecrackers, bottles and cans, attacked photographers and clashed with police.
Buoyed by a surge of supporters on their Facebook page – up from 25,000 before the Woolwich attack to over 120,000 today – the EDL were predicting 5,000 on their march, so the actual numbers fell well short of their hopes. Facebook "likes" obviously don't necessarily translate into boots on the streets.
Nevertheless, following a period of decline and fragmentation, the EDL can now organise demonstrations of a size approaching what they could achieve during their earlier peak. Whether this situation will last is questionable, but the outrage over the killing of Lee Rigby has at least temporarily allowed the EDL to stage a recovery.
More worrying than increased numbers on their intimidatory anti-Muslim street protests, however, is the hatred that the EDL is whipping up over the internet, spreading inflammatory rumours via Facebook and Twitter and provoking its followers into furious threats to kill Muslims and burn mosques.
It is hardly accidental that Geoffrey Ryan – the man who has been charged with the attack on the Al Falah Islamic Centre in Braintree, during which he allegedly brandished two knives, threw a smoke-bomb and shouted "Where is your Allah now?" – appears to be a supporter of the EDL and the international "counterjihad" movement of which it is part.
There has always been the strong possibility that the EDL might inspire a British Breivik, and the chances of that happening have significantly increased.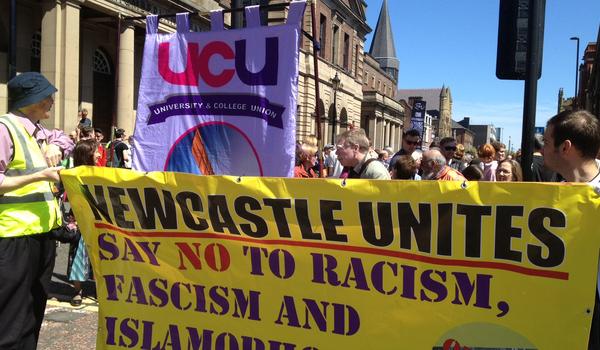 Update:  EDL News has posted a video of EDL North East regional organiser Alan Spence, who had been standing on the platform beside Stephen Lennon, interjecting the comment "Send the black cunts home" during the EDL leader's speech, to loud cheers from the crowd. Spence, of course, is a former BNP parliamentary candidate who was jailed in 2011 for his part in an attack on a left-wing meeting. Yet Lennon, who laughably claims that the EDL is neither violent, racist nor fascist, has no problem with Spence holding a prominent position in the organisation.