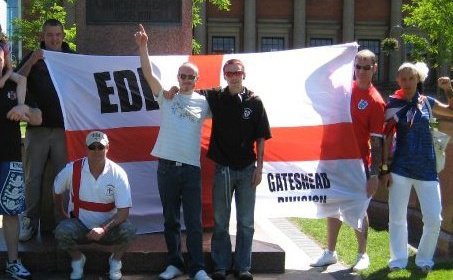 His name is Rob Sims and he's the man wearing the black EDL t‑shirt in the centre of the picture. (It is taken from his Facebook page, as is this photo which gives a clearer view of his face – and Zionist sympathies – and this one which illustrates his disturbing paramilitary inclinations.)
As we pointed out last week, Sims was responsible for posting the following comment on the EDL's official Facebook page in response to the trial of Norwegian mass murderer Anders Breivik:
"We should be supporting this guy, The lot he killed where a bunch of Anti-Semite scum, These left wing idiots and muslims are making europe resemble Germany under NSDAP rule, Whats it gonna take for people to realise that we need more people like Breivik who are willing to actually fight for what he believes in."
That was posted last Wednesday and the EDL admins still haven't seen fit to remove it, even though it clearly comes into the category of soliciting to murder.
Who is "Rob Heldane Sims"? It isn't difficult to discover his personal and political details. He lives in Newton Aycliffe in County Durham, his date of birth is 13 September 1987, and – after failing to build a career as a singer in a black metal band – he is now employed by the outdoor power products company Husqvarna which has its headquarters in Aycliffe. He is a longtime active supporter of the EDL.
Back in June 2010 Sims set up a Facebook group to win backing for his "sponsered [sic] walk to Newcastle for the Dudley 2" – i.e. for the two EDL members, Leon McCreery and John "Snowy" Shaw, who had been charged with burglary and inciting religious hatred after staging a rooftop protest at a site where Dudley Muslim Association proposed to build a mosque.
A few months earlier Sims had launched a blog called Heldane EDL to which he contributed a single post, titled "Islam – the religion of peace?", where he outlined the views that have now resulted in his public support for Breivik's terrorist killings:
"The muslims claim that we interfered with 'Adolf Hitlers glorious work of exterminating the Zionist scum from the world' and that 'Allah demands the destruction of the Jewish race'. Are we expected to tolerate these people immigrating into our lands, with their beliefs of mass genocide in the name of their so called god!"
Sims' Facebook page shows that he is also a supporter of a group called Task Force Europa Ultras, which describes itself as "a Militant counter Jihadist movement which stands firm against the rapid Islamization of the European continent. We are strongly in support of Israel and many of the anti-Islamic movements and politicians in Europe today".
Unsurprisingly, given his sympathies for militant counterjihadism and extremist Zionism, Sims is a strong supporter of Roberta Moore's EDL Jewish Division and its parallel organisation the Jewish Defence League UK. Indeed he has borrowed the J‑Div/JDL's logo for his profile picture on his Facebook page. He shares Moore's Kahanist views, and last month posted an appeal on Facebook for help in distributing EDL Jewish Division leaflets in Gateshead.
Moore's wing of J‑Div is officially no longer part of the EDL. However, as her appearance alongside EDL leader Stephen Lennon at the Tower Hamlets demonstration last September indicated, this formal separation, while allowing the EDL leadership to distance itself from Moore's politically embarrassing views, doesn't necessarily mean much on the ground. As for Sims, his Facebook page shows that he manages to combine his involvement in Moore's outfit with support for the EDL and its Gateshead Division.
Moore's decision to separate from the EDL arose from a dispute over her links with the Jewish Task Force, an extremist US group headed by a convicted terrorist. She has described the Breivik trial as a "kangaroo court" and announced that she has no sympathy for his victims. So it is hardly surprising that one of her followers has gone a step further and become an advocate of Breivik's position on terrorist violence.
When you bear in mind that the JDL UK website currently features a long post declaring that Respect leader Salma Yaqoob is "a Jew hating, intolerable Islamofascist fanatic who preaches violence and incites hatred against Israelis and Jews" – in other words, that she is exactly the sort of "Anti-Semite scum" who Sims believes deserves to die – this begins to look seriously worrying.
In the past Islamophobia Watch has sharply criticised the failure of the police to take action against EDL supporters who incite hatred and violence online. However, the recent arrests of members of the EDL splinter group the Infidels indicate a welcome change of policy. Hopefully Durham Constabulary can be persuaded to give Sims' incitement to murder the urgent attention it deserves.