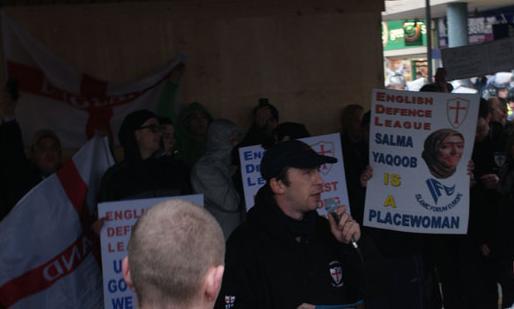 Anti-fascist protesters emerged victorious on Saturday after holding Bolton's central Victoria Square against the racists from the English Defence League. But mainstream national media reports are presenting it as a contest between two violent groups – and blaming the anti-fascists for the violence.
Anti-fascists faced brutality from police with dogs and on horseback. There were over 60 arrests – 55 Unite Against Fascism and 9 EDL, according to Sky news – including UAF leader Weyman Bennett "on suspicion of conspiracy to commit violent disorder". The police commander made disgraceful allegations about the protesters.
Video on the Bolton News website makes it clear, however, that the violence was not coming from the anti-fascists. It shows an elderly veteran of World War 2 who had joined the protest, and UAF stewards can be heard urging protestors to stay calm in the face of apparent police efforts to provoke a riot.
The Bolton News had a reporter in Victoria Square who described on Twitter how EDL members had broken away from the square to cause violence: "Number of demonstrators intent on causing disorder have broken away from protest site. Large numbers of officers deployed to address." The journalist saw "missiles flying" as the EDL tried to get out of its enclosure.
Anti-fascists clearly outnumbered the EDL, yet the BBC on its website and on TV news cited the police estimates that there were 1,500 anti-fascists and 2,000 EDL.
See also "Anti-fascist charged after Bolton protests", BBC News, 21 March 2010
Update:  See "Anti-fascists targeted by police at EDL demo", Morning Star, 22 March 2010
Further update:  See "Manchester TUC report on protest against English Defence League, Saturday 20 March, Bolton", which states:
"The only rioting that occurred was carried out by the police. The behaviour of the police was outrageous. First they prevented many contingents of anti-fascists from reaching the square. Secondly they sought to intimidate anti-fascist protestors, closing off entrances and exits, forcing them backwards, ripping down banners and unleashing riot squads, horses and dogs in constant manoeuvres. There were vicious beatings of individual participants in the protest by heavily armoured police with snatch squads targeting leading UAF officers for arrest and released with bail conditions denying their civil rights."
And read Gary McFarlane's account at Expose the BNP, 24 March 2010