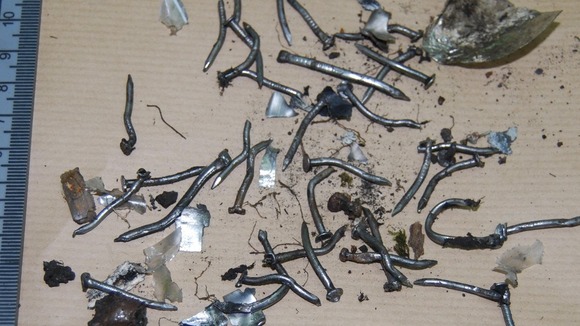 Remains of the nail bomb that Pavlo Lapshyn planted outside the Kanz-ul-Iman Central Jamia Mosque in Tipton
The terrorist threat from extreme right-wing "lone wolves" is on the increase and growing in potency, one of the Government's most senior security officials warned yesterday.
Individual terrorists driven by hatred of immigrants and Muslims are assessed as being more skilled in making and using explosives, firearms and poisons while also being harder to track than Islamist terrorist cells.
Police and intelligence services stepped up monitoring of the far-right threat after Anders Breivik's massacre in Norway in 2011 and have reviewed measures again this year after the murder of an elderly Muslim man and bomb attacks on mosques in the West Midlands.
Pavlo Lapshyn, 25, had been in Britain for only five days before he murdered Mohammed Saleem, 82, in Birmingham in April and embarked on his bombing campaign. He pleaded guilty at the Old Bailey yesterday and will be sentenced on Friday.
Lapshyn's ability to act alone and the speed at which he began his self-styled mission "to increase racial conflict" after arriving in Birmingham on a work placement has alarmed police and security agencies.
"The extreme right-wing terrorist threat is a threat of lone actors – but lone actor threats are often more challenging because groups often have weaknesses, whereas determined lone actors rarely do," Charles Farr, director-general of the Office for Security and Counter-terrorism, said. "They are lone actors but often more proficient than actors who we may see at the other end of the terrorist spectrum."
The security profile of the far-right "lone wolf" is that of a male who is older than his Islamist counterpart, more integrated in his community, with a stronger history of education and employment and who is more skilled at acquiring weapons.
In 2010 a former British National Party member, Terence Gavan, 42, was jailed for 11 years after police found an arsenal of guns and explosives in his home in West Yorkshire. The same year Ian Davison, 44, from Co Durham, who ran a website called Aryan Strike Force, was jailed for ten years after making the deadly poison ricin.
Mr Farr said: "The biggest weapons caches found in this country in the last five years have been connected with people sympathetic to extreme right-wing causes. More than 30 guns and about 50 explosive devices were found in the possession of Terence Gavan. In terms of sheer quantity, there have been no comparable seizures made in connected with militant Islamists."
The growing concern about far-right violence emerged weeks after the leaders of the English Defence League disowned the movement, complaining of neo-Nazi infiltration.
Lapshyn, from Dnipropetrovsk, eastern Ukraine, was dressed in black and flanked by security guards as he pleaded guilty to the murder of Mr Saleem, causing an explosion and conduct in preparation for terrorist acts.
The final charge outlined how he acquired chemicals and other bomb-making materials and used mobile phones as timers. He admitted carrying out research on target buildings and places to leave the devices.
He left the bombs near mosques in Walsall, Wolverhampton and Tipton during June and July. The Tipton bomb was packed with nails and set to explode as worshippers gathered for prayers. Loss of life and major injury was avoided only because the mosque had shifted prayer times by an hour during Ramadan.
Lapshyn was captured after a "relentless" trawl through closed-circuit television images, tracking his movements around the West Midlands. The local knowledge of beat officers then allowed police to home in on the Small Heath area and go from house-to-house looking for him.
Early in his police interviews he said: "I would like to increase racial conflict, because they are not white, and I am white." Admitting the murder of Mr Saleem, he said: "I have a racial hatred so I have a motivation – a racial motivation, and racial hatred."
Shazia Khan, Mr Saleem's daughter, said: "Our Dad was targeted simply because of his faith. His beard and his clothing represented who he was. Pavlo chose to kill him that night with only that intention in mind. Hopefully he will get the sentence that he deserves."
Cf. the Searchlight report, Lone Wolves: Myth or Reality?