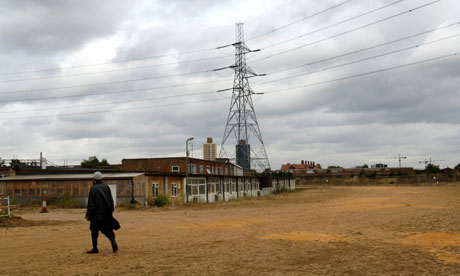 An Islamic group planning a so-called "mega mosque" in West Ham have won a challenge to keep their current base open.
Leaders of Tablighi Jamaat were bidding to overturn an enforcement notice served on their Riverine Centre in Canning Road by Newham Council in February 2010.
The council wanted to see the temporary facility – which consists of pre-fabricated and demountable buildings – shut down amid fears over traffic levels, land contamination and visual impact.
Temporary planning permission was granted in 2001, but expired in 2006, since when the group have continued to use the site.
At a public inquiry at Newham Town Hall, East Ham, held earlier this year, the group argued they should be granted a two-year extension.
And in a decision notice published today, planning inspector Graham Dudley granted their request – despite admitting harm would be caused to the area and that there was a history of non-compliance with planning guidelines.
He said the "substantial need" for religious facilities and the scarcity of land and finances for new community buildings outweighed the negative factors.
This will upset the right-wing Christian fundamentalists led by Alan Craig who formed an alliance with British Muslims for Secular Democracy and Taj Hargey to call for the TJ site to be shut down.
Incidentally, the photo of the so-called "mega-mosque" that appears alongside the London 24 report is the old Mangera Yvars design that was withdrawn long ago.
Update:  No, Alan Craig is not happy. A press release from Craig on behalf of Newham Concern (an organisation consisting of himself and a few of his right-wing evangelical cronies) has appeared on various far-right websites. It claims that the planning decision "will further boost the capital's reputation as 'Londonistan'."
You can understand Craig's resentment. All that effort he put into whipping up fear in the local community over Tablighi Jamaat, including slandering them as the inspiration behind various terrorist attacks in the UK – and the planning inspector refuses to close down their mosque. Sometimes life can be so unfair.