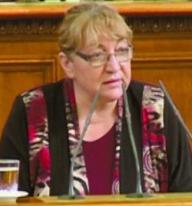 A group of Syrian refugees in Bulgaria have filed a complaint with the country's Discrimination Protection Committee against Magdalena Tasheva, a lawmaker from the ultranationalist Ataka party, over a series of shockingly xenophobic remarks.
Tasheva, who hosts a show broadcast by Ataka's own TV channel, Alpha TV, has repeatedly insulted the Syrian refugees on air, calling them "fiends", "scum", "mass killers", "cannibals", "savages", "Islamic fundamentalists who have escaped justice" and "terrible, despicable primates", among others. She has claimed that the refugees "have started stealing and beating people" and would "start raping and chopping heads off."
The Bulgarian Helsinki Committee, a human rights NGO, will represent the refugees in the case. "This extreme hate speech triggers xenophobia and poisons the environment for the refugees by spreading stereotypes," a Bulgarian Helsinki Committee representative has told local media.
Even though it is not officially in power, Tasheva's extremist party is a key ally of the country's fragile Socialist-led coalition government.