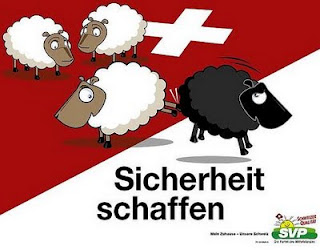 The group responsible for launching Switzerland's anti-minaret initiative has called the rejection of a motion to ban burqas on public transport and in dealings with authorities "an affront".
The National Council on Monday rejected a motion by Swiss People's Party member Oskar Freysinger to ban the wearing of burqa in certain situations. The Council decided with a significant majority that imposing such a ban was unnecessary.
Social Democratic Party spokesman, Hans Stöckli, said that the majority of women wearing burqas in Switzerland were tourists, Swiss news agency SDA reported. Furthermore Justice Minister Simonetta Sommaruga warned that a blanket ban could violate the Geneva Convention on Refugees, as it would not distinguish between those with and without refugee status.
But the minds behind the anti-minaret initiative, the so-called Egerkinger Committee, believe a burqa ban to be worthwhile. The Egerkinger Committee claims that the rejection of the motion to ban burqas pointedly ignores the majority who expressly reject the "Islamization" of Switzerland.
The Committee maintains that while the Swiss constitution guarantees freedom of expression, wearing a veil is a denial of that freedom. "Freedom of expression is exercised in our country with an undisguised, open, readable face," the Committee said in a statement.
The Committee said that it was ready to launch a popular initiative for the banning of the burqa "without delay".
Update:  According to the SDA report, it was in fact the Swiss upper house, the Council of State (Ständerat), that rejected the SVP motion on Monday. The lower house, the National Council (Nationalrat), voted in favour of Freysinger's call for "burqa ban" in September last year.