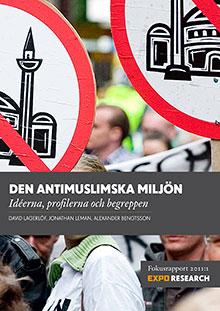 Expo Research has released a study of the anti-Muslim milieu. The report shows how several Swedish websites incite violence against Muslims.
After the terrorist attacks in Norway on 22 July, awareness of the anti-Muslim milieu increased. Expo Research's study analyses how hatred of Muslims is spreading.
Among other things, the report shows that violent comments and posts are a regular feature of the anti-Muslim blogosphere.
A comment on one of Swedish Democrat MP Kenth Ekeroth's blog posts about Islamisation and multiculturalism draws the following conclusion:
"the only obvious consequence of these trends with immigrants is the long-term use of lethal force against all immigrants especially Mohammedans, or civil war between the old Nordic people and the new immigrants, it is not a question of if but when."
The new study describes the influential sections of the international anti-Muslim milieu, and the key concepts and texts and comments in the Swedish blogosphere.
The report was prepared by Research Expo, part of Expo Foundation. Expo Research collects and analyses information about racist groups, networks and phenomena.
Among other things, Expo Research is responsible for Expo's archives, which contain Scandinavia's largest collection of right-wing propaganda, and publishes a regular report on the white power movement.
The report can be downloaded here