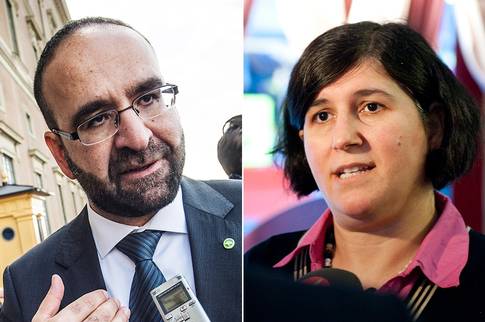 A former Swedish MP has slammed Sweden's new Housing Minister Mehmet Kaplan, saying that the Muslim politician has a hidden agenda.
Social Democrat politician Nalin Pekgul went on the attack against Mehmet Kaplan from the Green Party (Miljöpartiet) in a debate article in one of Sweden's leading broadsheets.
Her piece in the Dagens Industri newspaper was prompted by a statement Kaplan made to the Turkish media, in which he claimed that the reason young Muslims are joining the terror group Isis is because of widespread Islamophobia in Europe.
Kaplan, who is Sweden's new Housing Minister, argued that the government should give more money to Europe's mosques in an effort to tackle the recruitment. But Pekgul suggested that young people were signing up because they felt lost or rootless and that Islamist extremists were taking advantage of their vulnerability.
"It's unforgivably naive to think that giving money to these kinds of [Muslim] organizations and mosques will work against segregation and will reach out to these youths who are being radicalized," she wrote. "It's exactly this kind of naivety that people like Mehmet Kaplan are counting on, and it's time for everyone who wants to oppose the radicalization to realize the damage Mehmet Kaplan and others like him can accomplish."
Kaplan, a 43-year-old born in Turkey, is a former spokesperson for the Muslim Council of Sweden. He has been a member of the Green Party since 2003.
"For fear of being labelled as an Islamophobe, no one dares question Mehmet Kaplan and his hidden agenda," added Pekgul.
She also drew comparisons between Kaplan and Jimmie Åkesson, the leader of the nationalist Sweden Democrat party.
"Jimmie Åkesson has claimed time and time again that he isn't racist and that he actually doesn't have anything against immigrants, rather that he just wants to reduce the volume of immigrants. Similarly, Mehmet Kaplan says that he supports equality between the genders, but there are few secular Muslims who'd believe that he wasn't an Islamist."
In her article, she also wrote that with Kaplan in government, Sweden's Green Party heads Gustav Fridolin and Åsa Romson "have sent a clear signal to Sweden's Muslims that the Islamists now have the support of the Swedish establishment".
---
Pekgul writes: "I don't see any widespread Islamophobia among the general public…. The real problem is rather a lack of identity among many young Muslims in Europe. This rootlessness is utilised by the Islamists in order to achieve the objective of creating a parallel society ruled by sharia law." She accuses the Swedish Young Muslims organisation, of which Mehmet Kaplan was chairman back in 2000-02, of providing a platform for hate preachers.
Pekgul also states: "The appointment of Mehmet Kaplan as a minister is surprising and appalling." She adds: "For fear of being labelled as an Islamophobe, no one dares question Mehmet Kaplan and his hidden agenda. This is nothing short of a betrayal of the people who are primarily affected by the Islamists' intolerance and oppression."
See also Kitimbwa Sabuni, "Medias behandling av Kaplan hotar demokratin", Dagens Samhälle, 16 October 2014