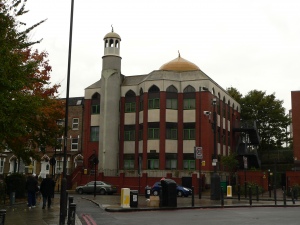 A package containing a suspicious white powder, an anti-Islamic message and offensive pictures of Muslim women was posted to the Imam of the mosque, in St Thomas's Road, Finsbury Park, on Thursday.
Staff called the police, who closed Rock Street and the mosque, leaving 150 people who turned up for prayers out on the street. After testing the substance, police found it to be harmless.
Mohammed Kozbar, manager of the mosque, said: "The letter was addressed to Imam Ahmad Saad, who opened it. He was very scared because he saw the white powder, like anyone would be in that situation. Police closed the mosque for about four hours, and kept all the staff inside to test them for Anthrax. We are all very disturbed by this because it comes so close to our fourth annual open day on June 26."
The mosque was the victim of another attack in July last year when vandals stuck a pig's head on the gates outside.
Mr Kozbar said: "Even though they were on CCTV, they were never caught, but this is more serious because people's lives could have been at risk and hopefully the police will get to the bottom of it this time. Whoever sent the package is trying to isolate the community and undo all our hard work. I would like to show them round the mosques and show them the good work we do."
A police spokesman confirmed cordons were put in place amid concerns over a suspicious package, and admitted it could be linked to other incidents, including one in Redbridge the following day. He said: "We are investigating malicious communications sent to a number of addresses in London and other parts of the UK. "The inquiry relates to suspicious but non-hazardous packages sent to mosques."