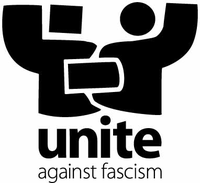 The racist English Defence League is planning to descend on Leeds this Saturday 31 October.
Initial reports suggest that they are building heavily for this event to make-up for a poor showing in Swansea earlier this month and a complete no-show in Newport last weekend. On both occasions Unite Against Fascism organised successful counter demonstrations to show that the EDL and their affiliates are not wanted in Wales.
We need to get as many people as possible to Leeds on Saturday to send a clear message to the EDL that their brand of noxious racism has no place in Yorkshire either. Every UAF supporter in the North of England should try to get to Leeds with their friends, family and workmates. On every previous occasion where the EDL has tried to march it has been blocked by a much larger contigent of anti-racists. The presence of a multi-racial crowd standing in solidarity with Muslims against the EDL is the most powerful force stopping them from growing further.
UAF protest against the racist EDL
assemble 12 noon, Saturday 31 October
Leeds Art Gallery, The Headrow, Leeds LS1 3AA