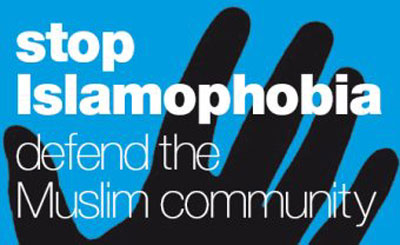 Stop Islamophobia: Defend the Muslim Community
Conference, Saturday 5 June 9am to 1:30pm
Camden Centre London WC1H 9JE
Speakers include:
Daud Abdullah Muslim Council of Britain  • Mohammed AliIslam Channel  • Anas Al-Tikriti British Muslim Initiative  • Tre Azam ex of The Apprentice  • Moazzam Begg former Guantanamo Bay prisoner  • Lindsey German convenor Stop the War Coalition  • Muhammad Habibur-Rahman vice-president Islamic Forum of Europe  • Kate Hudson CND  • Imran Khansolicitor  • Dr Robert Lambert former head of Scotland Yard's Muslim Contact Unit  • Seumas Milne journalist  • Peter Oborne journalist  • Salma Yaqoob Respect Party
---
Update
Because of the attacks on the aid flotilla to Gaza, there is now an emergency protest demonstration being held in London on 5th June. Stop the War and BMI are fully involved in organising this protest, given the outrage at the deaths of at least ten on the flotilla and the continued imprisonment of hundreds more.
We have therefore decided to continue with the conference until lunchtime, but then to curtail it and ask delegates to join the demonstration in the afternoon.
This means that conference registration will begin at 9.00 for a 9.30 start, the conference will continue until 1pm with a final session which talks about Islamophobia, the war on terror and how they are linked. We will then adjourn to Downing St to join the march to the Israeli embassy.