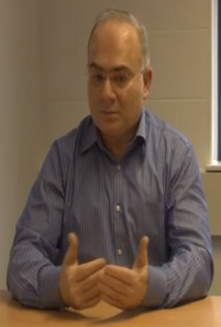 A hate crime victim has spoken out on behalf of a Muslim community whose mosque was smeared in dog faeces and pork meat.
Salman Lone from the Stevenage Muslim Community Centre features alongside fellow victims of hate crimes in a video released by Hertfordshire Constabulary last Monday to mark Hate Crime Awareness Day.
The mosque in Vardon Road was targeted earlier this year when offenders placed pork meat on the gated entrance to the building and over the handles of the front doors. The following day, dog excrement was smeared in front of the entrance to the centre, which was built in 2001 and is used by more than 1,000 people.
"The Stevenage Muslim community has a very proud and strong relationship with its wider community, and a peaceful one too I must add, but just recently we had quite a major incident from our perspective," said Mr Lone, who is on the centre's executive management committee.
"It was quite a distressing situation for those who were present there and the rest of the community. People of Muslim faith take pork as quite a taboo meat because this is the only animal which is by name prohibited in the Qur'an.
"It was clearly a religious-motivated hate crime because the person doing it meant to incite some kind of disturbance in the community and they did achieve their purpose because people did feel let down in so many ways."
Following the hate crime – a criminal offence motivated by hostility or prejudice based upon a victim's disability, race, religion, sexual orientation or transgender identity – a 21-year-old man and a 24-year-old man, both from Stevenage, were arrested on suspicion of religious-related intimidation and harassment. They were later released and no further action was taken against them following a decision by the Crime Prosecution Service.
Mr Lone said: "We were disappointed but we have forgiven the offenders – it is not about revenge. If anything, there was a doubt in people's minds that the police would not take the matter seriously, but the police were very proactive and everyone was very pleased with the response. The general community has been very understanding."
There have been five crimes of a racial or religious nature in Stevenage reported to police since April. Between April 2012 and March this year there were 58 crimes of the same nature, and 66 incidents reported between April 2011 and March 2012.
Detective chief inspector Julie Wheatley said: "Hate crime is one of the most under reported forms of crime in the UK – particularly disability hate crime – and we are determined to change this in Hertfordshire.
"Hate crime is under reported because many victims just put up with negative behaviour and consider it as being part and parcel of everyday life if they are from a minority group."
Via ENGAGE