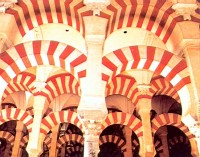 Bishop Demetrio Fernández González of the southern Spanish city of Cordoba, once the seat of Muslim power in Spain, said that he will not permit Islamic worship at the city's cathedral. The cathedral was formerly a mosque, which in turn had been built on the site of a Catholic church.
Sharing the cathedral with Muslims, Bishop Fernández González said in an interview, "is a euphemism which means: get Catholics out of here … The answer to the question about sharing the Cathedral is that no, we're not, because this place has been a Catholic church 16 centuries, while Muslims have been four and half centuries."
"If I let in the Muslims pray in the cathedral of Cordoba, it is equivalent to Catholics saying goodbye and good night; it would be irresponsible," he added. "There are things that are shared and others that are not, and the cathedral of Córdoba is not shared with Muslims."
Catholic Culture, 14 June 2010
For earlier coverage of this issue see here.