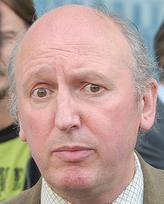 An anti-Muslim group forced to call off a 9/11 protest in Harrow for fear of violent reprisals is planning to return if it can raise 2,000 supporters.
Stop the Islamisation of Europe had planned to demonstrate against Islam outside Harrow Central Mosque on Friday, September 11, but was forced to abandon the demonstration because of police fears of a riot in the streets of Wealdstone.
A handful of supporters who did turn up were chased away by hordes of predominantly Asian men, some wielding sticks as weapons, who had broken away from more than 1,000 pro-Mosque supporters who had gathered outside Harrow Central Mosque, in Station Road.
However, Stephen Gash, the SIOE organiser, told the Harrow Times he was thinking of organising another demonstration in Harrow, and a message has been posted on the group's website confirming it will return if 2,000 people pledge to turn up.
Mr Gash said 60 people had traveled to Harrow on September 11, and insisted they had a right to protest against what he claimed was totalitarian mosques preaching Jihad.
The first protest was widely condemned by leading members of the Harrow community, but police have conceded they have no powers to ban a lawful and peaceful protest.
Harrow Times, 22 September 2009
---
Before you get too worked up about Gash's threat, bear in mind that when this pathetic little man organised his "Stop Kuffarphobia" demonstration in London two years ago he told the police he expected a thousand protestors to join him. The actual attendance was variously estimated at between 15 and 30.