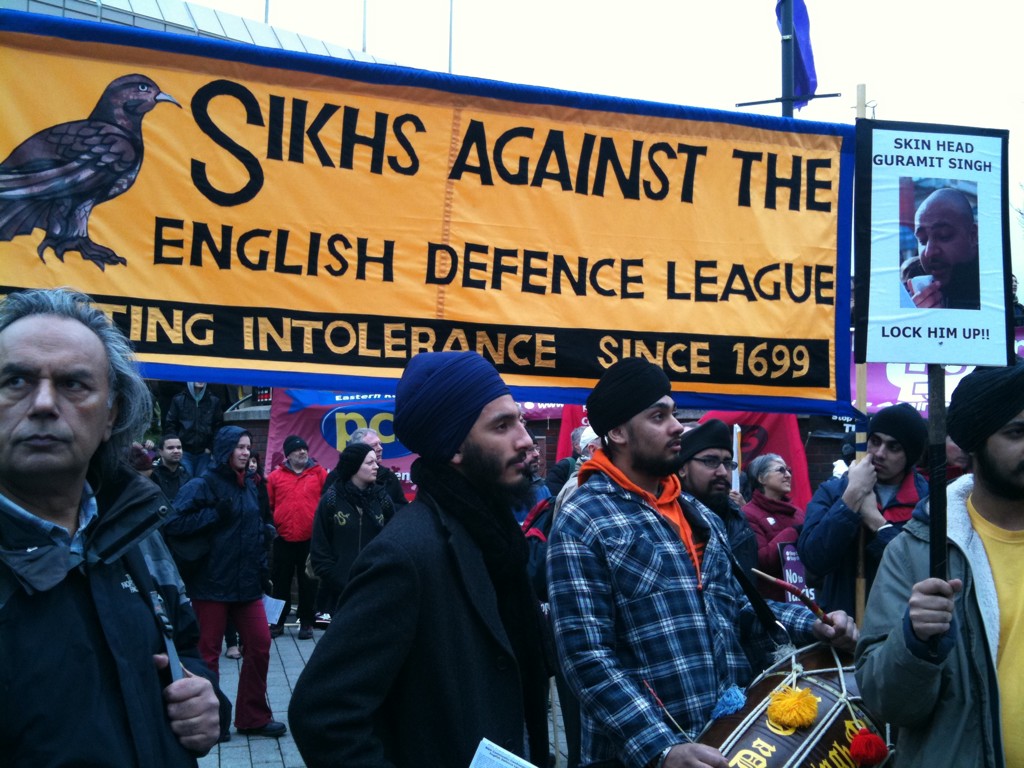 Sikhs Against the EDL press release
The racist and fascist EDL want to march in Leicester this Saturday, 4th February, to spread their racist poison.
To counter their unwanted presence and to stop them intimidating the local communities the antiracists will also take to the streets on the same day.
This is the second time in less than two years that the EDL thugs want to stir up racism and divisions among the city's diverse community. Last time when they showed up in October 2010, they caused much violence and disruption.
Despite the Stephen Lawrence verdict and the racist murder of Anuj Bidve in Manchester on Boxing day, once again they want to parade through the streets of Leicester. But Leicester has a proud history of challenging prejudice and promoting equality and people of the city have worked and campaigned together for many years to build a successful, multicultural city where different communities live peacefully side-by-side.
That's why when the EDL showed up the last time the people of Leicester gathered in their thousands to show to the EDL that they are not wanted. Now again black, white and Asian people are set to show their unity against the EDL again at a 'Love Leicester, Hate Racism' demonstration.
The demonstration is being organised by Unite Against Fascism (UAF) who have urged for a wider support. Thus the 'Sikhs Against the EDL' would be supporting this demonstration.
The 'Sikhs Against the EDL' group was formed last year in response to some mis-guided Sikh youth supporting the EDL. They used to carry Sikh flag on the EDL marches and use Sikh insignia and emblems in their vile propaganda.
However, most of those Sikh youth have now left the EDL, largely due to the campaign lead by the 'Sikhs Against the EDL' but also after the EDL decided to make an alliance with British Freedom Party (BFP), a breakaway group from the BNP but with equally openly fascist policies.
Balwinder Singh Rana, spokesperson for the 'Sikhs Against the EDL' said, "We had always warned that the EDL are no different from the BNP. They are targeting the Muslims today but would turn against all of us tomorrow. I am glad that those Sikh youth who used to support them have learned the error of their ways, but our job is not done yet. We must support the people of Leicester to stand up to these racists & fascists so that they would think twice before they decide to turn up somewhere else".