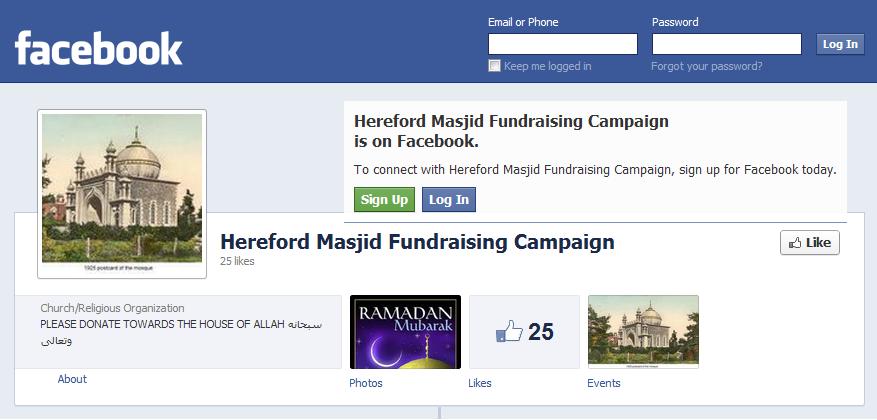 Racist messages have been sent to fundraisers working to set up the county's first Muslim place of worship. Although no location has yet been confirmed, the very idea has been met with abuse on internet sites.
Members of Hereford's small Muslim community currently meet at the Kindle Centre near Asda but say that this venue is too small. They have so far raised £40,000 towards a purpose-built community centre that would be dedicated solely to the Muslim faith.
A group was started on the social network site, Facebook, to garner support. But racist comments posted on the Hereford Masjid Fundraising Campaign's (HMFC) page resulted in the page being shut down on Tuesday. One abusive message posted on Sunday threatened to contaminate any land identified as a potential site and referred to the group as vermin.
The Muslim group replied politely, saying it would report any further racist comments to the police. But this did little to stop the abusive messages. "My country, my opinion and you will hear it," came the response. "The people of Herefordshire are happy with the way things are. They don't want your lot changing it. No more mosques for UK."
South Wye councillor Chris Chappell said he was appalled to hear of the abuse. "At a time when Mo Farah, a Muslim, made us proud to be British, it is embarrassing to read these sad, racist, hillbilly remarks," he added. "With the ever-expanding growth of Herefordshire, we need to be able to welcome people from all across the world whatever their faith, or no faith."
Meanwhile, Neville Meredith, community integration and race equality development officer with Herefordshire Council said:
"When people hear the word mosque, they immediately picture some great stone building, but as far as I understand this building will be a small, non-intrusive building in keeping with Herefordshire's aesthetic. Some people seem to think Herefordshire is not a welcoming county but it is. It's just that everywhere you go you will meet people who want to build barriers rather than break them down."
The £40,000 has been raised largely through donations at the weekly Friday prayers held for the past five years at the Kindle Centre.
Zack Pandor, a local Muslim community co-ordinator, said that due to larger numbers the time had now come for Muslims to find a place of their own. He said:
"Two years ago the community discussed the idea of establishing its own centre. We are striving towards having a community centre that provides a place for the growing community to meet, a place to pray and also serves as a centre for Islamic educational activities. We want to say to everyone that we're not some kind of alien race, we're actually quite normal. We want to be more integrated within Herefordshire."
Monuhar Ali, who runs the Kamal restaurant in Widemarsh Street, Hereford, was one of 174 Muslims living in the county according to the 2001 census. Mr Ali, who helped start the Herefordshire Muslim Society, said: "We are thinking of our future – we can't all fit in to the Kindle Centre and it would be nice to have a bigger place with parking facilities. We are just trying to do our best – as long as we are safe and have support we are happy."
The plans also caused a debate on the Hereford Times' website. One user called "Refuge77" said: "Those of us who have seen first hand the dangers of Islamic culture (note, not individual Muslims) don't see it as wonderful at all more seriously worrying."
But there was support for the idea with "lloyd1024" saying: "Having a genuine mosque here on our doorstep will certainly make this land a more exciting place to be. It will also show our children that Muslims are not as they are described in the media but they are just like everyone else. Where can I donate towards the build cost?"