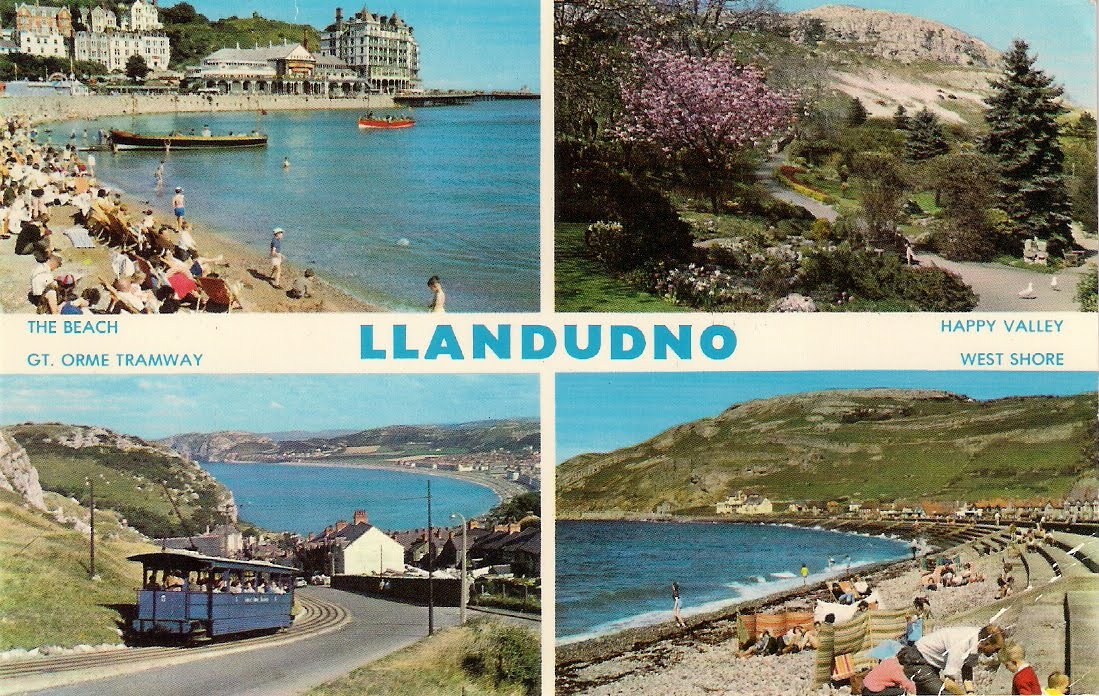 When I was a kid back in the 1950s our family regularly took our summer holidays in the North Wales resort of Llandudno, and over half a century later I still have pleasant memories of playing on the beach there. So imagine my shock at the revelation that this picturesque seaside town is about to succumb to the apparently inexorable process of Islamification that is sweeping the UK. Is nowhere safe from the Muslim hordes?
The threat has become so extreme that a group of concerned citizens have decided they must take a stand. The North West Alliance Gogledd Cymru, which was formed by ex-members of the now defunct EDL Deeside division in association with Welsh groups who shared their goal of "stopping the 'disease' of Islam in Britain", have announced that they will be holding a demonstration in Llandudno on 10 August, which they predict will attract fully 1500 participants.
They explain: "It has come to our attention that militant Islam is starting to have an impact in north Wales, we have had reports of these so called Sharia patrols in towns along the north Wales coast, there have been cars driving around town centres harassing girls telling them to go home and get dressed, trying to convince people not to drink saying it is against Islam. This is only the beginning of things to come. Islam is trying to get a hold in Wales … and we must act now before it is too late."
Yes, really, "Sharia patrols" are stalking the streets of Llandudno. No doubt it's only a matter of time before they take to the beach itself to suppress innocent sunbathers who have failed to cover their bodies adequately. It's really quite astonishing that the local Muslim community has managed to establish such a degree of domination over the town, given that the 2011 census shows there are only 156 Muslims living in Llandudno, comprising 0.8% of a total population of 20,701 – and only 583 Muslims in the entire county borough of Conwy, 0.5% of a population of 115,228. A sceptic might suggest that if Islam is trying to take over this part of Wales, it clearly has some way to go.
It is easy to mock the Islamophobic fantasies of the far right (and I haven't hesitated to do so). But there is a serious aspect to this. The fact that the "Islamification of Britain" myth is even more at variance with reality in a seaside town in North Wales than it is in, say, Leicester or Tower Hamlets, serves as no deterrent to the far right, whose paranoid anti-Muslim bigotry is immune to empirical evidence or rational thought. On the contrary, because Muslim communities in such areas are so tiny, and therefore much more vulnerable to attack than in urban centres with large Muslim populations, this just makes them even more of a target for the cowardly thugs of the EDL and its various offshoots. A 2010 report by the European Muslim Research Centre, Islamophobia and Anti-Muslim Hate Crime: UK Case Studies, found that Muslims face significantly higher levels of threats and intimidation in small towns than they do in big cities.
Welsh anti-racists and anti-fascists are already organising a counter-protest for 10 August. Unite Against Fascism Wales secretary Jeff Hurford has said of the North West Alliance demonstration: "This is another attempt by fascists to exploit Islamophobia in the wake of 'grooming' trials and the Lee Rigby murder and we will strongly resist it – just as we have all other attempts by fascists to build in Wales." A local initiative has seen the launch of the Facebook page Oppose The Racist N.W Alliance Gogledd Cymru in Llandudno, which has details of the counter-demonstration.
Update: Following complaints about the impact it would have on local businesses at the height of the tourist season, the NWA have postponed their demonstration until September.