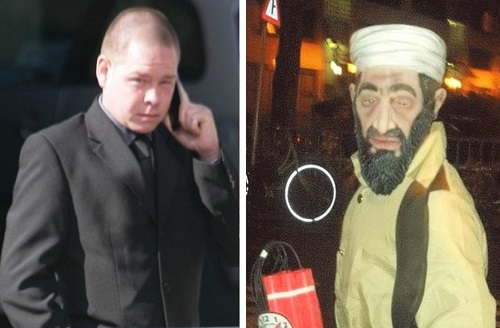 An Afghanistan veteran who posted Facebook pictures of himself dressed as Osama Bin Laden could be kicked out of the Army – after breaking into a mosque and stealing a Koran.
Lance Corporal Liam King, of Eastwood Park, Great Baddow, pleaded guilty to the burglary of Chelmsford Mosque on Parkway, as well as criminal damage to the Islamic centre's door, when he appeared at Chelmsford Crown Court on Monday.
Now Judge Christopher Ball has ordered a pre-sentence report to determine if King's actions were motivated by "religious or racial hatred" or his alcohol problem.
King, who posted pictures of himself dressed as the terrorist and armed with dynamite, tried to break into the Jamia Masjid Mosque in Parkway on Sunday, November 24, last year, but failed.
The 22-year-old, who serves in the Mortar Platoon of the 1st Battalion Royal Anglian Regiment, returned to the religious building three weeks later in the early hours of Monday, December 16.
This time he managed to break into the mosque by forcing the front door. Along with two other men they stole a copy of the holy book worth £25, and caused £150 of damage to the lock and door.
CCTV from the failed burglary of November 24 shows King walking up to the mosque, shouting up to the window, banging on the door, and then trying to shoulder charge the entrance unsuccessfully.
The images from the December 16 incident show King barging through the door and entering the mosque with two other men. Police do not know who the other two men are, and are appealing to the public to help identify them. They emerge two minutes later with the Koran and swagger back down Moulsham Street, flicking through the pages.
At Chelmsford Magistrates' Court on April 9, King initially denied one count of criminal damage and one count of burglary and a trial was to start on Tuesday.
But at Chelmsford Crown Court, King changed his pleas to guilty.
The court heard how a prison sentence could jeopardise his Army career, while even a suspended sentence could lead to his expulsion from the Forces.
Dominic Connolly, defending King, said: "Mr King's circumstances are somewhat unusual in that he is a serving soldier in the Armed Forces.
"He is seen by his supervisors as an essential part of his unit and is held in very high regard. In fact he is expected to get a promotion to full corporal.
"If a sentence of imprisonment is given, it's curtains for his future military career, even if he is suspended it's almost certainly curtains as only in exceptional circumstances would he be allowed to continue.
"The likely result is that he would be discharged from the Army."
King was released on unconditional bail and will next appear at Chelmsford Crown Court on December 1 to be sentenced.
Anyone who can help identify the two men who stole the Koran along with King should call Essex Police on 101.
Essex Chronicle, 6 November 2014
Update:  See "Afghanistan veteran Liam King avoids jail after stealing Koran from Chelmsford mosque", Essex Chronicle, 1 December 2014