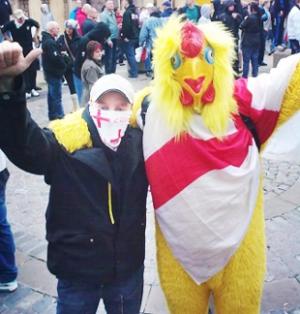 The sentencing of a group of English Defence League (EDL) supporters was adjourned for a second time after the man dubbed their "commander" collapsed in court.
Judge Norman Wright postponed the Preston Crown Court case after being told Bernard Holmes [pictured, in chicken costume] was lying "semi comatose" in the public gallery yesterday.
Representing him, Jeremy Lasker said Holmes had just come out of hospital and was on painkillers for pancreatitis, as well as suffering diabetes.
The court previously heard about a day of protests the defendants were involved in on July 2 last year.
Paul Blundell, 45, of Lee Street, Longridge; Graham Smith, 48, of Draperfeld, Chorley; and Martin Corner, 31, of Corporation Street, Chorley, admitted threatening behaviour and will be sentenced on June 25.
Emma Kehoe, prosecuting, said police saw a large group gathered on a pub car park in Blackburn. Some visited an Asda store in Accrington to protest at selling and labelling of Halal meat, before delivering a letter to MEP Sajjad Karim's home in Simonstone.
Around 36 EDL supporters, including the defendants, later went to Brierfield. The court heard a group of Asian people gathered to retaliate.
Leanne Thornton, 26, of Todmorden; John English, 24, of Blackburn; Jordan Lonsdale 20, of Ribble Lane, Clitheroe; and Paul Jackson, 41, of Blackburn, admitted threatening behaviour.
Four admitted racially aggravated fear or provocation of violence – Holmes, 26; Leonard Hawley, 47; David Wilson, 47, all from Blackburn; and Jason Smith, 43, of Todmorden, but all pleaded not guilty to a charge of violent disorder.
The charge will lie on file.
Lancashire Evening Post, 1 June 2012
It would be inappropriate to laugh at genuine illness, but when an EDL member is reduced to a "semi comatose" state this usually has a more obvious explanation than painkillers or diabetes.