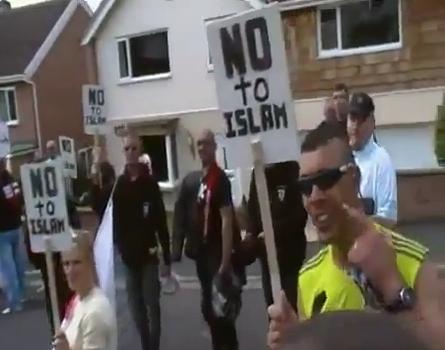 Last July Sajjad and his young family were subjected to a vile and racist protest outside their Lancashire home. Readers of this website will know that 12 members of the English Defence League pleaded guilty for actions that day that included other unaceptable behaviour.
Sajjad welcomed the fact that the innocent victims that day were spared giving evidence and reliving their ordeal.
In the past few days lawyers acting on behalf of the EDL have attempted to thwart and silence journalists in the Lancashire and Manchester area. The EDL claimed their guilty pleas had nothing to do with the demonstration at the Karim house. Journalists were told they would be sued or reported to the Press Complaints Commission.
This afternoon the Crown Prosecution Service upon hearing about the EDL claims issued the following statement:
Chris Long Deputy Chief Crown Prosecutor said: "The defendants in this case appeared before the Crown Court sitting at Preston and entered guilty pleas following a serious public order incident during a day of activity by English Defence League supporters.
This included an incident earlier that day outside the home of Member of European Parliament Sajjad Karim. The events outside Mr Karim's home form part of the prosecution case together with what later transpired in Brierfield.
Twelve defendants are due to be sentenced at Preston Crown Court on 25 May 2012."
Once again the EDL have sought to question the honesty of Sajjad and once again they have been found wanting.
Shortly after the mob protested the leader of Britain's fascists, Nick Griffin, supported the mob by calling Sajjad's integrity into question. Griffin called him "dishonest" and said it was a peaceful protest that was not racially motivated but about animal cruelty.
Four of the twelve pleaded guilty to threatening racially aggravated violent behaviour, another admitted carrying an offensive weapon – a chisel – and the rest admitted using threatening behaviour.
Let me repeat the gang pleaded guilty. They did so minutes before they faced a jury.
Like the EDL, Griffin has been found wanting.