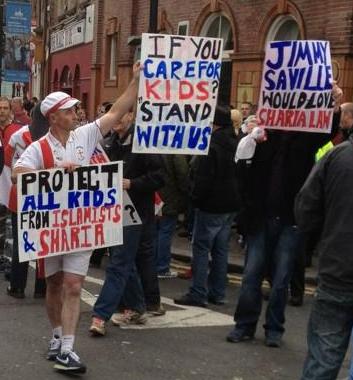 Residents revealed they were too frightened to go into Rotherham town centre when hundreds of marchers took to the streets.
The town came to a standstill as around 300 English Defence League supporters from across the country descended on the town on Saturday.
They were heavily marshalled by police on foot and horseback as they marched through the streets chanting anti-Islam songs.
Around 200 people also took part in a peaceful Unite Against Fascism rally and march – staged to celebrate multiculturalism – in the town centre.
South Yorkshire Police deployed 800 officers amid fears there could be clashes. Three men were arrested – one on suspicion of public order including making threats towards a police officer, another on suspicion of affray and a third on suspicion of possessing an offensive weapon.
Residents said the EDL march was unlike anything they had witnessed in their home town before and said many people had stayed away.
A 32-year-old woman, from Rawmarsh, who did not wish to be named, said: "I've lived in Rotherham all my life and we've never had anything like this. I find it very frightening. I walked into down and didn't know it was happening but when I saw I contacted friends who have kids to tell them to avoid it."
And a 62-year-old woman said: "This should not be happening in Rotherham. It is a lovely town. I know a lot of people have avoided coming into town today because they were scared of what might happen."
Police boarded trains, were stationed at bus and rail stations and lined the streets of the town centre. The force helicopter was also deployed.
The EDL march was organised after the revelation Asian men had been grooming young girls for sex in Rotherham.
Around 200 people joined the Unite Against Fascism counter demonstration in All Saints Square, where crowds engaged in a peaceful protest against the EDL.
Fred Thomson, aged 26, who travelled from Ecclesall, Sheffield, to show his opposition to the march, said: "I wanted to show that people in South Yorkshire oppose the EDL. We cannot just let people march through our towns and city centres spreading hatred."
Rotherham Coun Brian Steele said: "We have got to stand up to fascists in this country. They are not welcome in Rotherham. We want the EDL out of our town."
Steve Parkin, from Rotherham UAF, said: "By speaking out in public unity today, we show that fascist groups like the EDL will not succeed in their attempts to use racism to divide our towns and cities."
The Rev Eve Rose added: "The EDL cannot speak for Christians. Their politics of hate have no place here."
On the EDL march, a 34-year-old, from Thybergh, who refused to be named, said: "The important thing is keeping hold of our identity. I am proud to be English and proud to be EDL. I am a Christian and I go to church. We get violence directed at us at marches. I can't understand why they let them have the Unite Against Facism on the same day."
His friend, a 27-year-old from Clifton said: "I don't want values in our country to be changed by people coming into it."
See also "Rotherham sends the EDL packing", Morning Star, 14 October 2012