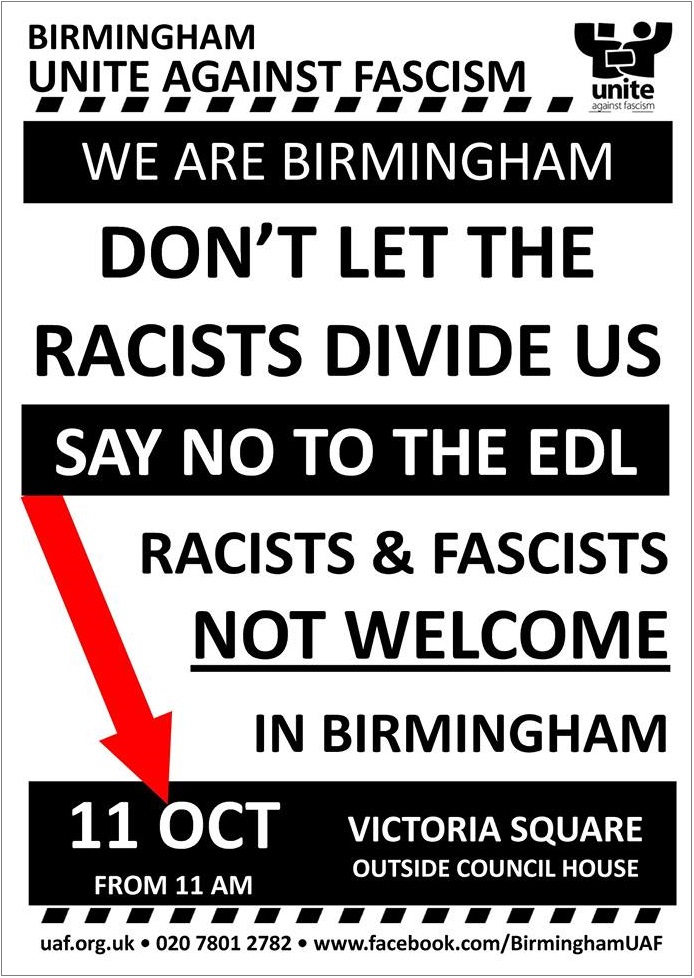 WE ARE BIRMINGHAM – DON'T LET THE EDL DIVIDE OUR COMMUNITIES
Saturday 11 October 2014, 11am
Victoria Square, Birmingham
Statement
We, the undersigned, condemn the decision by the English Defence League (EDL) to come to Birmingham on Saturday 11th October. We believe it is a cynical attempt by the EDL to use the appalling crime of child sexual exploitation in Rotherham to further its own selfish ends. We support and seek justice for all victims of sexual exploitation regardless of their social or ethnic background. We condemn and seek prosecution of all those responsible for these crimes irrespective of their ethnicity or creed.
We reject the attempt by the EDL to whip up racism and division in our city by trying to turn communities against each other without a care for the damage it leaves in its wake.
We also reject the attempt by the EDL to use the crime of child sexual exploitation to demonise one community. It is important to emphasise that the victims and perpetrators of child sexual exploitation come from all communities. The recent Independent Inquiry into Child Sex Exploitation in Rotherham by Professor Alexis Jay OBE makes the very important point that:
"As has been stated many times before, there is no simple link between race and child sex exploitation…." (Pg 91)
We believe that the implementation of policies designed to prevent all forms of discrimination and racism has a crucial role to play in achieving justice and fairness in our society.
The EDL is a racist and fascist group dedicated to attacking Asian people and Muslims. Many former members of the fascist BNP, the Nazi National Front and other fascist organisations are active in the EDL and its splinter groups. These fascists and racists should be condemned and opposed. We must not give a quarter to those who would judge an entire religion, race or nationality by the actions of a few. Islamophobia – bigotry against Muslims – is as unacceptable as any other form of racism. Today they threaten Muslims, tomorrow it could be Jewish people, Hindus, Sikhs, black people, LGBT people, Travellers or Eastern Europeans.
We urge people of goodwill to support the 'EDL not welcome in Birmingham' statement and join the 'We Are Birmingham – Don't let the racists divide us' unity demonstration on Saturday 11th October.
Signatories:
Birmingham Unite Against Fascism
Roger Godsiff, MP, Sparkbrook and Small Heath
Jack Dromey MP, Birmingham Erdington
Salma Yaqoob
Dave Prentis, General Secretary of UNISON
Matt Wrack, General Secretary of the Fire Brigades Union
Billy Hayes, General Secretary, General Secretary of the Communication Workers Union
Mark Serwotka, General Secretary, Public and Commercial Services Union
Owen Jones, author and journalist
Sajid Shaikh, Trades Union Congress
Chris Baugh, Assistant General Secretary, Public and Commercial Services Union
Brian O'Sullivan, National Executive Committee, University and College Lecturers Union
Chris Morrison, National Executive Committee, Public and Commercial Service Union
Paul Williams, National Executive Committee, Public and Commercial Service Union
Greg Kiff, Group Executive Committee of PCS in the Crown Prosecution Service
Pete Collier, Group Executive Committee of PCS in Department for Transport
Sian Ruddick, Group Executive Committee of PCS in the Department for Work and Pensions
Lee Baron, Midlands Regional Secretary, Trades Union Congress
Eleanor Smith, Midlands Regional Chair, Trades Union Congress
Dave Pitt, Midlands Regional Young members convenor, Trades Union Congress and Fire Brigades Union
Ravi Subramanian, West Midlands Regional Secretary, UNISON
Gerrard Coyne, West Midlands Regional Secretary of Unite the Union
Andrew Lloyds, Midlands Regional Secretary, Public and Commercial Services Union
Kitt Armstrong, Midlands Regional Secretary, National Union of Teachers
Sian Ruddick, Midlands Regional Chair, Public and Commercial Services Union
Cathy Bayton, Chair, Dudley UNISON
Caroline Johnson, Secretary, Birmingham UNISON Local Government
George Sants, Chair, Coventry UNISON Local Government
Chris Burrow, Coventry UNISON Local Government
David Kersey, Communications Officer, Coventry UNISON
Mark Robinson, Midlands Regional Trade Union Side Secretary for PCS in the Ministry of Justice
Mike Weathered, Branch Organiser, PCS in Ministry of Justice
Godfrey Webster, Vice President, Birmingham Trades Union Council
Marion Halfpenny, Wolverhampton Trades Union Council
Mike Edwards, Shopshire Trades Union Council
Natalia Stepozoka Unite Officer, West Midlands
Gill Whittaker, GMB Organiser, Birmingham and Midlands
Tyrone Fowles, Unite Community Organiser, West Midlands
Tony Rabaiotti, UNISON Regional Official, West Midlands
Naeem Malik, Chair, West Midlands Palestine Solidarity Campaign
Linda Burnip, Co-founder of Disabled People Against the Cuts (DPAC)
Sue Harris, Thompsons Solicitors
Birmingham Strong Justice for all
Birmingham National Union of Teachers
West Midlands Love Music Hate Racism
West Midlands Love Music Hate Homophobia
Josh Jones, Councillor, Stockland Green and Erdington District
Mick Brown Councillor, Tyburn
Anita Ward, Councillor, Hodge Hill & Birmingham City Council Scrutiny Chair
Victoria Quinn, Councillor, Sparkbrook & Birmingham City Council Scrutiny Chair
Kerry Jenkins, Councillor, Hall Green
John O'Shea, Councillor, Acocks Green
Jess Phillips, Longbridge Labour Party PPC Yardley
Wassem Zaffar, Councillor, Handsworth East and Lozells & Birmingham City Council Scrutiny committee chair
Barry Henley, Councillor Brandwood
Tristan Chapfield, Councillor Oscott
Barry Bowles, Councillor Hall Green & Labour Party Chair Hall Green Contituency
Mahmood Hussain, Councillor Lozells and East Handsworth and Labour Party Chair Perry Barr District
Nawaz Ali, Councillor South Yardley
Ian Cruise, Councillor Longbridge
Elaine Williams, Councillor Harbourne
Majid Mahmood, Councillor Hodge Hill & Birmingham City Council Scrutiny Chair
Muhammed Afzal, Councillor Aston & Chair of Human Resources Committee
Raffar Iqbal, Councillor South Yardley & Scrutiny Chair
Gurdial Singh Atwal – Councillor Handsworth Wood
Mick Finnegan – Councillor Stockland Green
Penny Holbrook – Councillor Stockland Green & Cabinet Member for Skills, Training and culture
Tony Kennedy – Councillor Sparkbrook
Mohammed Idrees – Councillor, Washwood Heath
Andy Cartwright – Councillor, Longbridge
Habib Rehman – Councillor, Springfield
Chauhdry Rashid – Councillor, Nechells
Will Duckworth, Green Party Councillor, Dudley
David Kersey, Communications Officer, Coventry Unison