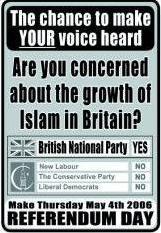 "This party's for white people, I make no bones about that," says Simon Darby, the man leading the far right's expansion in Birmingham.
The British National Party's regional organiser – already a councillor in nearby Dudley and one of 23 BNP councillors in the country – believes the party can exploit increasing Islamophobia and disillusionment with mainstream political parties to make gains in local elections on 4 May.
The problem with Birmingham, says Mr Darby, is that there are so many non-whites. "Birmingham will become an Islamic city in 10 to 20 years, and to a lot of people that is quite startling, that a city in the middle of England can swap over to sharia law."
---
See also the Guardian, which reports the backlash among BNP members against Sharif Abdel Gawad, who is contesting a Bradford ward for the party in May's local elections. The BNP leadership has described Gawad as a "totally assimilated Greek-Armenian", indignantly denying that he is a "Pakistani Muslim" as many of the rank and file had apparently assumed. However, this was not good enough for a section of the BNP membership, who still refused to accept Gawad's candidacy "on race grounds".
There is nothing unexpected in the BNP leadership using members of non-Muslim minority groups in their campaign against Muslims. In 2004 the BNP election broadcast featured a Sikh denouncing Islam. BNP propaganda has appealed to both Sikhs and Hindus against Muslims.
In June 2005 Nick Griffin wrote a piece on the killing of a white man in Ipswich. Griffin asked rhetorically who the killer was: "… he's not a Hindu, and Hindus hardly ever attack their non-Hindu neighbours. He's not a Sikh, and we wouldn't expect him to be, because Sikhs hardly ever attack their non-Sikh neighbours (in fact, when it comes to violent crime, both groups seem to have a lower offending rate than the national average). No, he's a Muslim."
Unfortunately for Griffin, his strategy is evidently too sophisticated for some of the brain-dead white supremacists among his members.