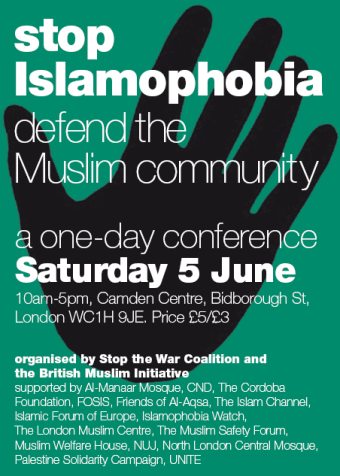 Peace campaigners will join Muslim community organisations and anti-racist activists in a one-day conference next month to prepare for a potential rise in Islamophobia as the new government steps up war efforts in the Middle East.
The event, entitled Defend the Muslim Community, will take place on June 5 and has been organised by the Stop the War Coalition (StWC) and the British Muslim Initiative with support from numerous other organisations.
Explaining the event, StWC convener Lindsey German told the Star yesterday: "The government's Prevent anti-extremism programme has actually gone a long way in attempting to criminalise Muslims for their political beliefs. A person should not be regarded as an extremist just because they oppose a war most people in this country do not support.
"We want to bring together people on the left with the Muslim community and peace campaigners and anti-racists to discuss what can be done.
"People are claiming the discrimination is not racist because it is about religion. But that is exactly what they said about the Jews and we all know what happened there.
"We hope this will be the start of a campaign which will see Muslims and non-Muslims standing together to reject the scapegoating of the Muslim community and racist attitudes."
The conference is scheduled to feature guest speakers including Daud Abdullah from the Muslim Council of Britain; director of Cage Prisoners Moazzam Begg; CND chairwoman Kate Hudson; Respect party representative Salma Yaqoob; former head of Scotland Yard's Muslim Contact Unit Robert Lambert and journalists Seumas Milne and Peter Oborne.
The conference will take place at the Camden Centre from 10am to 5pm on Saturday June 5. To book tickets visit www.stopwar.org.uk or call 020 7801 2768