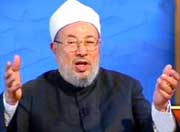 DOHA – Supporters of Qatar-based Muslim scholar Sheikh Yusuf al-Qaradawi staged a sit-in outside the British embassy in Doha on Wednesday to protest at London's denial of a visa to the controversial cleric.
"Mr Brown: Why are you rejecting tolerance and dialogue?" read one of the banners raised by the protesters, who numbered around 400, referring to British Prime Minister Gordon Brown.
Lawyer Najib al-Nuaimi, a former Qatari justice minister acting as Qaradawi's representative in the affair, handed the deputy head of the British mission, Claire Evans, a letter of protest. The letter demands that the British government reconsider its "unfair and illegal" decision to deny Qaradawi a visa, Nuaimi said.
Qatari Muslim preacher Sheikh Mohieddin al-Qaradaghi told reporters that Britain had taken an "unfair decision" against a "symbol of centrism in Islam," and this would "benefit extremists from both sides".