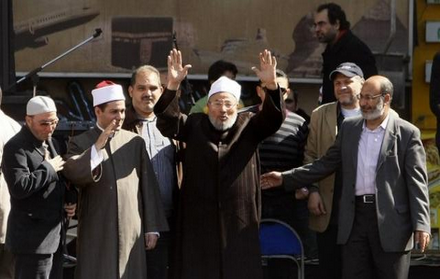 Qaradawi addresses mass rally in Tahrir Square in February 2011
Prominent Egyptian-born Muslim scholar Sheikh Yusuf al-Qaradawi has resigned from Al-Azhar's Senior Scholars Council, the prestigious Cairo-based religious institution's most authoritative body. In a Monday statement, al-Qaradawi said his resignation aimed to "register the position taken by free scholars."
"I'm tendering my resignation… to the great Egyptian people, not to the Grand Imam who owns the Azhar," said al-Qaradawi, who also serves as president of the International Union for Muslim Scholars. The prominent scholar went on to assert that the post of Al-Azhar Grand Imam – like the presidency – "has been usurped by the military coup."
Al-Azhar Grand Imam Ahmed Tayeb openly supported the Egyptian military's July 3 ouster of elected president Mohamed Morsi following mass protests against the latter's administration. In the months since, al-Qaradawi has been an outspoken critic of Morsi's ouster and repeatedly chastised Egypt's new military-backed rulers.
The Qatar-based scholar also blasted al-Tayeb's failure to invite members of the Senior Scholars Council to meet "in light of the recent massacres and grave incidents that have terrorized the Egyptian people, particularly the dispersal of the Rabaa and Nahda sit-ins."
On August 14, hundreds of pro-Morsi demonstrators were killed when security forces violently cleared two sit-ins in Cairo's Rabaa al-Adawiya and Nahda squares.
World Bulletin,