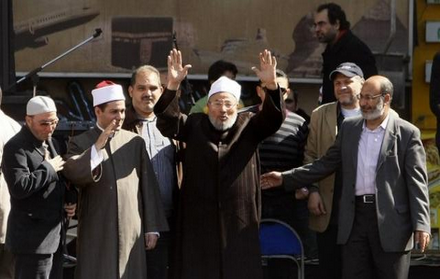 Qaradawi addresses mass rally in Tahrir Square, February 2011
The prominent Islamic scholar Youssef al-Qaradawi leveled severe criticism at Egypt's Salafi movement, describing its thinking as both stagnant and extreme. Al-Qaradawi, who heads the International Union of Muslim Scholars, blamed the rise of Salafis on the absence of a genuine role for the moderate Islamic institution Al-Azhar.
Salafi groups have called for drafting laws based on the Quran and the Prophet Mohamed's teachings. Though they have abstained from politics in the past, Salafi leaders announced they were considering a political role following the 25 January revolution.
Until the 1970s and prior to leaving Egypt, al-Qaradawi was a member of the Muslim Brotherhood. He considers himself a moderate Islamic scholar.
In an interview with Al-Masry Al-Youm, he accused Salafis of adhering to literal interpretations of the Quran and tradition, even though religious fatwa should change to accommodate new issues. Muslims should not be confined to the interpretations contributed by scholars from past eras, he said.
Al-Qaradawi added that the Salafi movement opposed the 25 January revolution and accused the revolutionary youth of deviating from Islam by disobeying authority. "Strangely enough, they now present themselves as the heroes of the revolution and its defenders," he added.
Egyptians have lost their confidence in Al-Azhar, he said, because its scholars obeyed the old oppressive regime.
Al-Qaradawi said Egyptians want a civil, democratic and pluralistic state that respects religions but upholds Islam as the official religion of the state and the source of legislation and guidance.