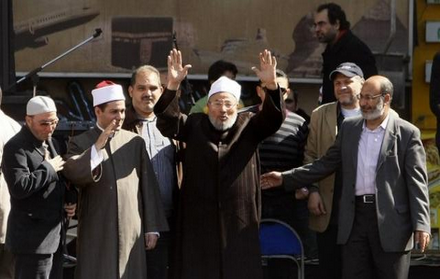 Qaradawi addresses mass rally in Tahrir Square in February
Prominent Muslim scholar Sheikh Yusuf Al-Qaradawi has reiterated support for senior Muslim Brotherhood leader Abdel-Moneim Abul-Futuh's bid to run for Egypt's presidency.
"I will vote for Abul-Futuh," Qaradawi, the president of the International Union for Muslim Scholars (IUMS), has told the Qatari newspaper Al-Arab.
Dr. Abul-Futuh has unveiled a bid to run in Egypt's presidential elections as an independent. Abul-Futuh has said that he had consulted Sheikh Qaradawi before his decision to run for presidency.
A doctor by profession, Abul-Futuh, 60, is currently secretary-general of the Arab Doctors Union. He holds an MA in hospital management and an LLM from Cairo University's Faculty of Law. Abul-Futuh is a member of the Brotherhood's Shura Council, but not the 16-member governing body.
Alongside Abul-Futuh, the list of presidential hopefuls includes former Arab League chief Amr Moussa, former leader of the UN nuclear watchdog Mohamed ElBaradei and prominent scholar Mohamed Salim Al-Awa.
Abul-Futuh's presidential bid has been opposed by the Muslim Brotherhood, which has said that it will not field a candidate in the presidential elections. The Muslim Brotherhood has sacked Abul-Futuh over his decision to seek presidency.
Cf. "Egypt elections expose divisions in Muslim Brotherhood", New York Times, 19 June 2011
In 2004, when he was Mayor of London, Ken Livingstone came under attack over his decision to welcome Qaradawi to a conference at City Hall. Ken's response was that it was important to engage with Qaradawi because he is a figure with mass influence who represents a progressive force within Islam. Developments in Egypt this year have completely vindicated Ken's judgement.