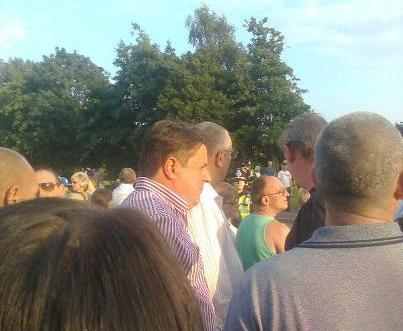 Last night's protest on Thurnby Lodge estate – spot the fascist
A series of late-night protests have been staged against a faith group's plan to convert a disused Scout hut in Leicester into a community centre.
Dozens of police have been stationed in Thurnby Lodge estate for the past few nights to oversee the peaceful demonstrations, which at their height have attracted up to 150 people.
Residents said they were angry the former Scout hut in Nursery Road looked likely to become a community centre operated by Islamic charity the As-Salaam Trust. They would like the building, which has been empty for several years, to be developed for the wider community. They are also concerned about extra traffic the centre might create.
Opponents have held their protests outside the estate's main community centre, in Thurncourt Road, where As-Salaam's members have been meeting for prayers for the past two-and-a-half years. They said the city council had not asked them for their views on the future use of the Scout hut. Some support a proposal to set up a boxing club in the building.
Maxine Williams, manager of the Stirrup Cup pub, has been taking part in the demonstrations. She said: "People are protesting because they feel that they have not been consulted and that the council has handed the keys to the Scout hut to As-Salaam. There is a lot of concern about the amount of traffic that it will bring and that people's peace will be shattered."
City mayor Sir Peter Soulsby was due to meet a group of residents today. He said: "As-Salaam has been meeting in the area for some time and was looking for a permanent home. "If the people who are interested in opening a boxing club can establish themselves, we will help them find suitable premises. "However, our view was they were a long way from being in a position to take this building on."
Mohammed Lockhat, As-Salaam's imam, said: "If we could sit down together and talk, we would be able to understand each other better. "People have said they are concerned about traffic, but most of the people would be walking to the Scout hut because they live here."
The Scout Association told the city council in September last year that it wanted to end its lease of the hut. The council said it then contacted more than 100 community groups which had told it they were looking for premises.
Of the groups that expressed an interest, As Salaam was the only one that could meet the lease criteria agreed with the Scout Association, the council said in a leaflet which was delivered to homes on the estate last week.
A police spokeswoman said: "The police have a legal duty to facilitate a peaceful protest and have no powers to stop a demonstration."
Leicester Mercury, 8 August 2012
See also "Thurnby Lodge: Leicester mayor Peter Soulsby 'open to discussion'", BBC News, 11 August 2012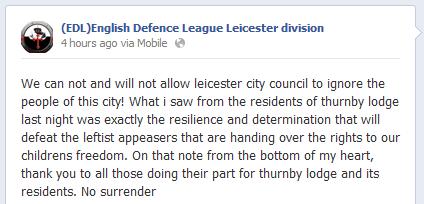 For further evidence of far right involvement in the protests, see Leicester Community Voice, 5 August 2012
See also "BNP stirs up resentment over Leicester Muslim centre",East Midlands Anti-fascists, 10 August 2012
And "Griffin parachutes into Thurnby Lodge", East Midlands Anti-fascists, 11 August 2012