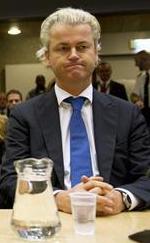 Dutch Freedom Party Leader Geert Wilders should be acquitted of charges that he incited hatred and defamed Muslims in newspaper editorials and his 2008 film "Fitna," a prosecutor said.
Wilders, 47, is on trial for calling the Koran "fascist" and comparing it to Adolf Hitler's book Mein Kampf in a 2007 Dutch newspaper editorial. A year later, he released his movie "Fitna," in which he calls on Muslims to rip out "hate- preaching" verses from the book.
"A politician in public debate should have the room to make proposals" even if they may discriminate, Prosecutor Paul Velleman told the Amsterdam District Court today. While some of Wilders statements contain "a certain degree of crudity," this doesn't lead to "unnecessary excessiveness."
The trial coincides with the start of a new minority government led by the Liberal Party and Christian Democratic Alliance, which relies on Wilders' Freedom Party to pass legislation. The government plans to ban full-face Islamic veils, an issue for Wilders' party, which more than doubled its representation in parliament in June elections.
Prosecutors earlier this week said Wilders should be cleared of charges that he defamed Muslims because he "aims his criticism at Islam and not at Muslims."
Prosecutors in 2008 decided against charging Wilders, saying his comments are part of the public debate and freedom of speech should prevail. The Amsterdam Court of Appeal last year overruled the decision, forcing prosecutors to subpoena Wilders.
"I'm very happy that the prosecutors came, for a second time, to the conclusion I didn't commit any punishable offenses," Wilders told reporters after the court hearing. "I don't discriminate, I don't sow hatred, I don't defame groups, the only thing I do and will continue to do is tell the truth."