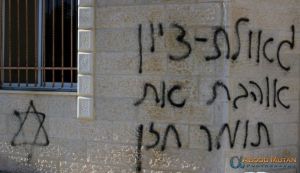 Extreme right wing activists vandalized three cars and the exterior wall of a mosque in the Palestinian West Bank village of Burka outside of Ramallah early Thursday morning.
The IDF is working on the assumption that the vandals executed a "price tag" attack of retribution for its evacuation of the Ge'olate Zion outpost on Wednesday morning as well as the Palestinian murder of IDF soldier Tomer Hazan last month. "Ge'olat Zion loves Tomer Hazan" was written on the mosque's exterior wall.
It is the second such attack in 24 hours. Security forces on Wednesday arrested four Israelis for attacking the Palestinian village of Jalud, vandalizing an elementary school and lightly injuring a soldier.
The IDF has assumed that violence against Jalud was also a "price tag" attack for the demolition of the Ge'olat Zion outpost, located outside the Shiloh settlement.
Jerusalem Post, 10 October 2013
See also AFP, 10 October 2013
Update:  See also "West Bank mosque defaced in second 'price tag' attack in 12 hours", Haaretz, 10 October 2013