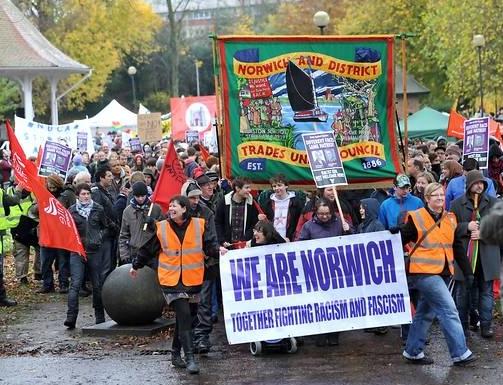 People in Norwich have been praised for the way they responded and reacted to the controversial English Defence League march.
The centre of Norwich came to a standstill on Saturday as nearly 2,000 people gathered at the front of City Hall to protest.
A crowd of 1,500 people from community, faith and political groups took to the streets under the collective banner of We Are Norwich in protest at the EDL's decision to march through the city, setting off from Chapelfield Gardens.
Meanwhile, on the other side of the city, around 250 EDL supporters arrived in buses and trains at Norwich railway station before gathering in Castle Gardens to make their way to City Hall, where they were met with loud boos and whistles by We Are Norwich supporters.
Norwich City Council leader Brenda Arthur praised the reaction from the people of the city, and the police for ensuring a peaceful day. She said: "It was great that so many people turned out to show the EDL that it is not welcome in our city."
The day was punctuated occasionally by minor scuffles, with police delaying the arrival of the EDL march group by nearly an hour following a disturbance on Castle Meadow.
They finally set off on a slow march at 1.30pm and got to City Hall just before 2pm, where speaker Glen Saffer urged the crowd to remain calm and ensure a peaceful protest. Chants of "EDL go home" and "Whose streets? Our streets!" could be heard across the heavily-policed neutral zone in front of City Hall, to which Mr Saffer replied: "We will never surrender".
The EDL took the decision to march in Norwich in protest at Norwich City Council's decision to ban Rev Alan Clifford, from the Norwich Reformed Church from his stall in Hayhill, for allegedly publishing anti-Islamic leaflets.
Julia Angelcynn, from a charity called The Steadfast Trust, which states on its website it works "specifically for the ethnic English community", referred to City Hall as "the Kremlin" in her address to the crowd. She added: "The people in this building behind me seem very anti-freedom of speech."
At 2.30pm, and to a chorus of boos, whistles and waves, the EDL marchers were escorted by police back to waiting buses and trains at Norwich station.
Nick O'Brien, secretary of We Are Norwich, said he was delighted with the group's response to the EDL.
"We are Norwich said that we would prevent the EDL getting to the steps of City Hall and the war memorial – we did. We said that we would build a massive and broad coalition to oppose them – we did. We said that we would be peaceful, family-friendly but loud and determined – we were."
He said the formation of We Are Norwich was a "beacon of light and hope" for positive action, and pledged the group would continue to oppose the EDL. "We Are Norwich will stay together for as long as we are needed. The EDL will never be welcome here."
Eastern Daily Press, 12 November 2012
Update:  The Steadfast Trust have pointed out that "Julia Angelcynn" is no longer involved with them. For more on Angelcynn see Norwich Culture Wars.