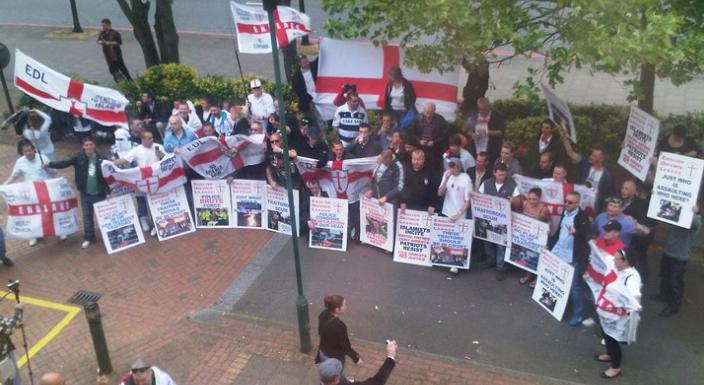 The massed ranks of the EDL demonstrate in support of 'Tommy Robinson'
Police are trying to maintain order in and around Hammersmith after thugs from the English Defence League flooded to the area in support of a member who appeared at West London Magistrates Court in Talgarth Road earlier on Wednesday.
A police helicopter is circling, while several police vehicles are lined up in Talgarth Road, as well as near Barons Court. There have been reports of disorder in Margavine Cemetery near Barons Court Tube station and near the court. Police confirmed EDL supporters in their "tens" were in the area.
Hammersmith & Fulham Chronicle, 11 May 2011
---
The member appearing in court was EDL leader Stephen Yaxley-Lennon ("Tommy Robinson"). According to reports on the EDL's Facebook page, Lennon was found guilty of a Section 5 public order offence and fined £350 £315.
Update:  See also "Arrests at EDL founder Stephen Lennon's court case", BBC News, 11 May 2011
Further update:  Predictably, EDL supporters whipped themselves up into a state of racist hysteria over the report that "Tommy" had been fined more than £300 over his confrontation with Muslims Against Crusades during an EDL counter-protest on Armistice Day last year, whereas MAC supporter Emdadur Choudary received a mere £50 fine for burning a poppy.
Some examples here. You know the sort of thing to expect – "Englishman fined £315 for defending his culture – muslim fined £50 for degrading it"; "if your white and non Muslim you get treat differently that's discrimination"; "wetha is 350 or 315 its still a fuckin diabolical joke when that mussy goat fucker only got 50 quid fine"; "1 rule for british 1 rule for the fuzzy faced pedophile loving scum"; "British courts r racist to Whites"; "tommy should of painted his face brown this morning wouldnt have spent half as long in a court room never mind a fine like he got". And so on. Not to mention warm words of congratulation to Lennon for confronting MAC: "well done tommy 4 doing what any true patriot would of done … god i would of cut that cunts head off and his fuckin friends … islam is a big piece of shit fuck mecca and medina … nuke em".
But it turns out that Lennon was in fact fined just £50, with £250 costs. In other words he received exactly the same fine as Choudary.