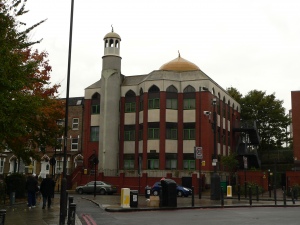 Police are seeking to ban marches in Islington because of fears a far-right group could target Finsbury Park Mosque, a leaked e-mail has revealed.
Scotland Yard is seeking to stop the English Defence League (EDL) staging a planned protest in Walthamstow in Waltham Forest on Saturday.
Officers have asked the home secretary, Theresa May, for a temporary order prohibiting marches across Waltham Forest and three other boroughs including Islington.
A message sent to councillors by Islington Council's executive member for community safety has shed light on the reasons.
Cllr Paul Convery writes: "The police service has sought a banning area that includes Islington because there are concerns that locations around Finsbury Park, including the mosque [in St Thomas's Road], may be targets for disorderly gathering.
"There is also an Arsenal home match that afternoon which will add to a potentially difficult public order situation."
Cllr Convery also warns EDL members may arrive at King's Cross station before making their way to Walthamstow.
He added: "Last summer, a similar EDL march planned for Tower Hamlets saw a gathering of aggressive EDL members at the junction of Pentonville Road and Caledonian Road."
The ban would also apply to Tower Hamlets and Newham. Ch Supt Peter Terry said: "We have made this decision based on specific intelligence and information, and our message is clear, we do not want people coming into the areas to attend these events."
Speaking to the Gazette, Cllr Convery insisted the main reason the ban is being sought in Islington is because many EDL members are expected to arrive at King's Cross or St Pancras stations and then congregate in the borough, before travelling through it. He added: "There's some sensitivity in Finsbury Park as much because there will be a football match, and because the station could be a stopping off point for people travelling to Walthastow. This is the council, police and others taking steps to make sure nothing happens in our borough."
Finsbury Park Mosque once had a negative reputation, when radical preacher Abu Hamza was based there, before being dismissed nearly a decade ago. It has since been taken over and turned its image around, reaching out with various community-focused activities like donating books to schools.