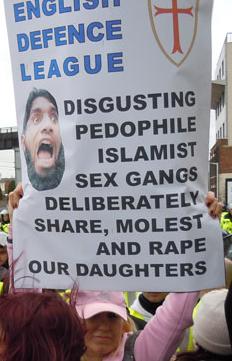 Police have quashed rumours circulated by the far-right English Defence League (EDL) that paedophile grooming gangs are operating in Redditch.
Speaking ahead of a planned demonstration by the group in the town on Saturday, Superintendant Adrian Pass said there was no evidence to back up the claims.
Saturday's demonstration will be the first by the group in Redditch and is expected to attract around 150 demonstrators. However Supt Pass said there would be a robust police presence in the town to deal with any disorder and allow members of the community to go about their business.
He said: "There is no evidence to suggest Islamic grooming or any other kind of sexual targeting of young girls by gangs is happening in Redditch. If the EDL, or anyone else for that matter, has hard evidence of any other illegal activities of this nature in the area then they should come forward and tell us. They have not done so and we have no information whatsoever to suggest that there is a wider problem in Redditch or anywhere else in North Worcestershire."
It is believed the rumours began circulating following the conviction for harassment of an Asian man against a white woman last year.
See also "Islamic grooming claims 'absolute nonsense'", Redditch Standard, 23 May 2012
And "Police refute EDL claims of 'Islamic grooming' in Redditch", West Mercia Police news report, 23 May 2012
The stated purpose of the EDL protest is to "make the residents of redditch know about the attempted abductions of children by islamic (muslim) men something the papers are hiding from the residents". Presumably the EDL will now condemn the police too for concealing the truth about "Muslim paedophile gangs" in the town.