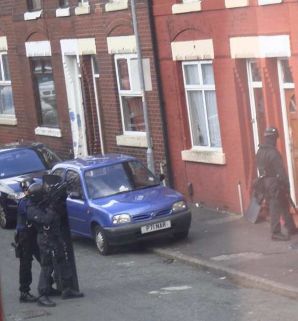 The government must end its "shameful harassment and demonisation" of Muslims, campaigners will demand at a public meeting in Manchester today.
The call follows the continued detention and attempted deportation of 11 Pakistani students falsely arrested during terror raids in the area in April.
All 11 men, plus a British citizen also arrested in the Liverpool, Manchester and Lancashire raids, have been released without charge and no evidence has been produced to support the allegations made against the men.
However, in a development which provoked fury from campaigners, the 11 foreign nationals were then immediately detained once more, this time by the UK Borders Agency.
A spokesman for the Respect party in Greater Manchester, which helped organise the meeting, said: "In a blaze of hysterical publicity, armed police swooped on 12 Pakistani students in Manchester and Liverpool on April 8.
"The Prime Minister boasted of a major terror plot being foiled. In spite of no evidence of any terror plot being found, 11 of the 12 are still being held in custody, awaiting deportation."
He added: "Instead of an apology, the police promised more such raids. We must unite to stop the deportation of the Pakistani students and break the wall of fear that is being built around Muslim communities.
"The government must stop this shameful harassment and criminalisation of Muslim communities and the media must stop the demonisation of Muslims."
Mr Abdul Kureshi of the Lancashire Council of Mosques said that government policy towards the Muslim community was alienating many and that it needed to be addressed.
He said: "My stance is that we need to protect this society but, if in the process innocent people are arrested, we should be bold enough to be fair with those people. It is not right if, in trying to serve justice, we are creating injustice.
"The government seems to have a blanket policy towards the Muslim community and a lot of people are very unhappy. I would be interested to know who came up with this strategy – it seems to be nonsensical and a lot of very hard-working and sincere people now feel very alienated."
The meeting is scheduled for Saturday from 2pm at the Pakistani Community Centre, Stockport Road, Longsight. A second meeting is to be held on Tuesday May 12 from 7.30pm at the Saffron Restaurant, Cheetham Hill Road in Cheetham Hill, Manchester.