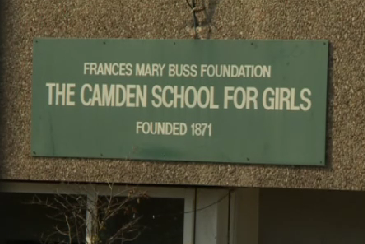 More than 300 people have signed an online petition calling for Camden School for Girls to "stop the Islamaphobia" after a student was allegedly banned from wearing a veil.
The anonymous petition says a 16-year-old GCSE pupil had been offered a place in the Sandall Road school's sought-after sixth-form on condition she did not wear the niqab. The niqab is a cloth veil covers part of the face, only revealing the eyes, that is worn by some Muslim women.
In a statement, Camden School for Girls said: "We have an appearance policy and students at the school may wear what they wish subject to any requirement in the interests of teaching and learning, health and safety. Inappropriate dress which offends public decency or which does not allow teacher-student interactions will be challenged."
But the Change.Org online petition said: "The student only started to wear the niqab this year, and even sat her GCSE exams wearing the veil. But this time, when the student returned to the school, wearing the niqab, a teacher claimed that she could not be allowed to study at the school."
The petition said the student was told "communication", "health and safety" and "security" were the main reasons for the decision.
Camden School for Girls is a state comprehensive school with a reputation for academic excellence and fostering independent thinking among some of the brightest brains in north London. Its motto is "onwards and upwards".
The school has taken students who wear the veil in the past, according to responses to the online petition which calls for a peaceful debate about "freedom of expression and religion", adding: "Why should a personal choice of deciding to wear religious dress affect their education?"
Camden New Journal, 22 September 2014
See also "Camden school refuses niqab-wearing student", BBC News, 22 September 2014
Update:  See "Camden school bans Muslim teenager from taking A-levels because she wears the niqab", Evening Standard, 23 September 2014
Update 2:  The Evening Standard reports that the student has decided she doesn't want to return to Camden School for Girls, because of the way she has been treated, and will study for her A-levels at a different sixth form college, even though it takes her up to an hour to get there each day.

"They are extremely accepting of all different cultures," she told the Standard. "I've been going to Camden for five years yet they were so dismissive but a school that I'd never even heard of were so ready to welcome me. There are even other students who wear the niqab."