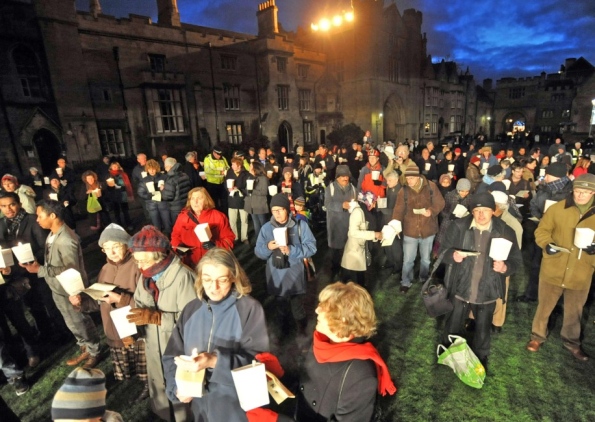 About 200 people from all sections of Peterborough society came together for a candle-lit vigil for peace yesterday (12th December). There were tears as school children from Thomas Deacon Academy, The Voyager School, Jack Hunt School and The Iqra Academy read poems and sang songs calling for unity in the city.
Speaking after the event outside the Cathedral at 4.30pm yesterday, Mayor of Peterborough Cllr Keith Sharp, praised everyone for taking part. He said: "It's great to see so many people turn out for this. We've had a week of uncertainty over what would happen this weekend but this just shows no matter what faith or religion we are united against hatred."
The vigil began with the candle of peace brought to the stage, accompanied by drummers from Bhangra Beat. Fr David Jennings welcomed everyone before pupils lit candles held by the crowd while Kumbaya was sung. Several poems were read out, songs and carols were sung and rap group Improvement Stars Entertainment performed So I Pray For A Better Day.
Rt Revd Donald Allister, Bishop of Peterborough also addressed the crowd. He said: "What we are doing today, following yesterday's events is affirming we are one community. This isn't just for people of faith, it's for all people of our city to say we are proud to be diverse."
The crowd read the inter-faith declaration of tolerance followed by a minute's silence before everyone sang We Wish You a Merry Christmas.