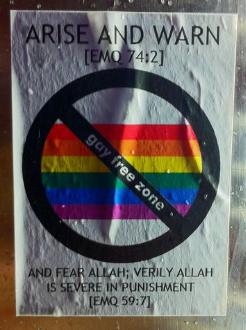 Next month's East End Gay Pride should be cancelled because it will cause "community tension", it has been claimed. Some local gay campaigners say the march, in east London, will cause tensions between gay people and Muslims.
The march, to be held on April 2nd, has been organised by six friends as a response to anti-gay stickers plastered around the East End. But opponents say it is an "emotional reaction" which "risks antagonising and scapegoating" Muslims.
They have also accused organisers of having "close links" to the English Defence League because some have Facebook friends who appear to be involved in the far-right group.
Although the parade has been backed by local police and Tower Hamlets council, some local campaigners are calling for it to be cancelled.
An open letter signed by Out East chair Thierry Schaffauser and Terry Stewart of the Hackney Community Engagement Board claims that the Pride march may "divide our communities" or be used "to oppress other marginalised groups".
Out East organises Hackney Pride and the letter has also been signed by Denis Fernando of Unite Against Fascism and the Greater London Association of Trade Union Councils.
It says: "We believe that the most appropriate response to the stickers is to liaise with Muslim communities and others to create bridges and communicate with each other.
"We want both homophobia and Islamophobia addressed as a collective problem and not feed one against the other, we do not recognise these as distinct categories.
"We will refuse any attempt to divide our communities or take the risk that an LGBTQ event is used to oppress other marginalised groups, in particular LGBTQ Muslims who will be the most affected by this rising antagonism."
In response, the organisers of East End Gay Pride said in a statement: "This is wholly a non-political demonstration and purely a high visibility demonstration of the East End gay community. This is not an anti-Muslim march. This is not an anti-anything march. We have stated this over and over again, here and on our website. We simply want to say: 'Hang on. You're wrong. The East End is NOT a gay-free zone'."
East End Pride has also received support from the organisers of Pride London. In an opinion for PinkNews.co.uk today, chair Paul Birrell wrote: "The organisers of the event should be applauded for this fun and timely reminder of the East End's LGBT community, not showered with abuse for simply wanting to show, well, a bit of Pride.
"The idea that being out and proud is somehow an assault on someone else's views is used time and again by hostile governments to ban Pride.
"That some within London's own LGBT community should use this argument – in what looks suspiciously like a case of sour grapes at not having thought of the idea first – is a source of shame."
For some useful background from the Latte Labour blog on the organisers of "East End Gay Pride", see here and here.