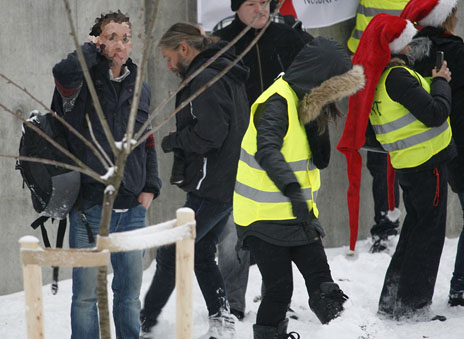 A 27-year-old man arrested in connection with a threat to bomb the Norwegian parliament has been an active supporter of the EDL's sister organisation the Norwegian Defence League, it has been reported.
Police were alerted on Tuesday night after the driver of a bus on which the man was travelling overheard him make the threat during a phone conversation. Police launched a full-scale manhunt, while the area around the parliament building was cordoned off with armed police guarding checkpoints.
Early this afternoon police announced the suspect's arrest, stating that they had found a gas pistol and a bulletproof vest during a raid on his apartment in Oslo.
He has not yet been named but the media say he was a participant in the Norwegian Defence League's protest in Oslo in December, which was addressed by Steve Simmons of the EDL. The anti-racist organisation Vepsen reports that the man acted as a video cameraman on the December demonstration and was seen in conversation with several well-known NDL members.
Update:  See "NDL member charged with bomb scare", Hope Not Hate, 15 February 2013