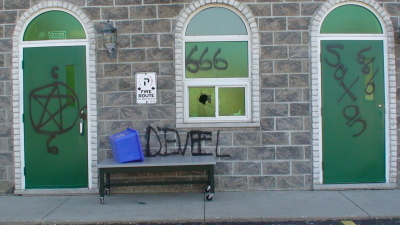 A man who defaced a Waterloo mosque removed a cross from around his neck and gave it to his weeping mother for safekeeping before he was taken away to jail Monday. Jesse Coleman, 21, was sentenced to 18 months in custody – plus two years on probation – for a crime spree that caused more than $160,000 in damage.
Coleman admitted he and a teenager smashed windows and spray-painted graffiti on the mosque of the Muslim Society of Waterloo and Wellington Counties last spring. Members were shaken after they found pentagonal symbols and the numbers 666 on the building, which they took as "very offensive and threatening in nature."
Coleman and the same youth also set fire to a house under construction on West Park Crescent in Waterloo, with damaged estimated at $130,000. He was part of a group of young males who went joyriding on carts at the Westmount Golf and Country Club, doing $30,000 damage before leaving them smashed and spray-painted. Others crimes included the theft of a University of Waterloo pickup truck, a break-in at the home of a friend who was trying to help him, and a small marijuana-growing operation.
The prosecution sought a sentence of two years less a day, stressing the "racial hatred" involved in the mosque incident and the complete disregard Coleman showed for others. Justice Gary Hearn, however, took into account that Coleman is still young, has a long list of mental health and addiction problems, and had an abusive, dysfunctional childhood. "He is in many ways the product of his upbringing," Hearn said.
While on probation for two years after his release from jail, Coleman must perform 100 hours of community service.
A representative of the Muslim society was in court for the sentencing, but declined comment other than to thank police for their handling of the case.