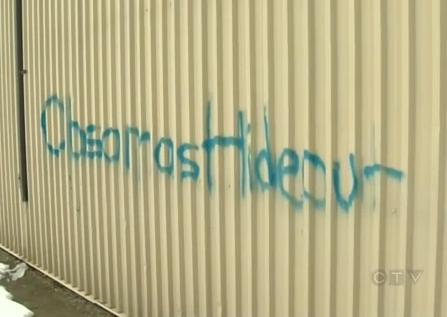 Guelph police have their hate crimes unit investigating after racial graffiti was discovered on a mosque.
Numerous spray-painted graffiti markings were discovered on the outside of the Guelph Muslim Society's mosque at 286 Water Street early Wednesday. The graffiti was painted between 9 p.m. Tuesday and 7 a.m. Wednesday. It contained derogatory references to Muslims along with inflammatory and threatening language.
"There are some comments specifically about the faith, about the religion," said Guelph Muslim Society president Muhammed Sayyed. "It's not something like a random act."
Police say the incident goes beyond simple mischief, which is why a specialized unit was brought in to investigate. "Due to … the type of information that was put on those walls, we're moving it upstairs to our hate crimes unit," said Const. Mike Gatto.
Sayyed says much of the vandalism was quickly cleaned up because the society doesn't want people, especially children, to have to look at it.
A security camera outside the mosque was able to capture two suspects.
Anyone with information is asked to contact police at 519-824-1212.
See also The Loop, 7 March 2013