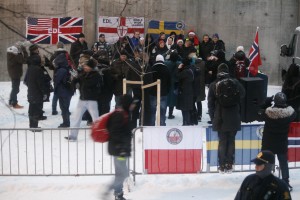 About 40 people gathered for an anti-Islam demonstration in Oslo, and were met with jeers and chants of "no Nazis on our streets" from a larger group of counterdemonstrators.
The protest was staged by the Norwegian Defence League, a group inspired by the larger English Defence League, which has carried out rowdy anti-Islam protests in Britain. The defence leagues say they're not racists but "patriots" opposing a perceived Islamization of Europe.
Police spokesman Finn Belle said Saturday's demonstration was peaceful and police successfully kept the two sides apart. He said three counterdemonstrators were detained for disturbing the peace and were fined before being released.
Associated Press, 15 December 2012
The anti-racist website Vepsen reports that the NDL demonstration was addressed by Steve Simmons (Chris Redmond), head of the English Defence League's European operation. Vepsen counted 47 people at the rally. By contrast, the counter-protest drew several hundred participants.
Update:  The derisory turnout at the Oslo protest hasn't prevented the EDL from giving it a big splash on their website ("Our very own Steve Simmons was on hand to deliver a speech and to meet with representatives of the NDL, SIOE and a number of other European Defence Leagues") though the report carefully avoids any mention of the actual numbers involved.
Other sections of the counterjihad movement were rather less impressed by the achievement of their supporters in Norway. Gates of Vienna's correspondent was indignant that so few people were prepared to rally against the Muslim menace:
"Norwegians who are critical of Islam need to get up off the couch and become more actively involved in the fight against this evil ideology…. How do people expect to stop the spread of Islam in Norway in the future if they're not even willing to stand up to this undemocratic ideology today?"