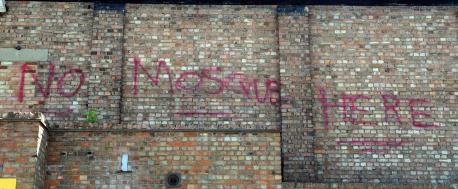 Yobs sprayed the words "no mosque here" on the side of a disused bingo hall even though there are no plans to turn it into a Muslim place of worship.
The slogan – on the former Gala bingo hall in Pitsea High Road – is believed to have arisen from rumours put about during May's elections by far-right groups. The only planning application put forward for the site was a proposal to use it for a car wash, and that was refused by Basildon Council in January.
Brother Sarfraz Sarwar, of the Basildon Islamic Centre, admitted his group, which is based at his Pitsea home, had privately enquired about the cost of the bingo hall with an estate agent at one time.
He added: "This rumour has been around for ages, but the Basildon Islamic Centre does not have the money to set up a mosque there or anywhere else. During the last election far right groups held protests outside that building and in Pitsea Market and I think they started the rumour.
"I have lived in Basildon for 46 years and been involved in the community for 36 years. It's a shame there is this mentality. Why wouldn't having a mosque be a positive thing?"
A Basildon Council spokesman said it was aware of the graffiti, and would ask the owner to have it removed. Police said they had not received any complaints about the graffiti, but after being contacted by the Echo, added a sergeant was to visit the site and liaise with the council.
The source of the rumour about the bingo hall being turned into a mosque would appear to be a statement by an organisation called the South Essex Islamic Trust that it was aiming to purchase the building. The far-right group that organised the protest was presumably the National Front, who stood a candidate for Pitsea in the Essex County Council elections in May.