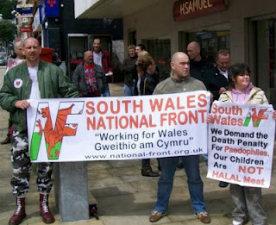 A 21-year-old man has been arrested during a demonstration by Far Right campaigners in Swansea.
Police intervened during the demonstration in the city centre on Saturday organised by the South Wales National Front in Union Street.
Officers made the arrest for an alleged racial public order offence. They also confiscated banners and posters to ensure there was no breach of the peace.
The 21-year-old man is believed to be from Swansea and has been released on bail following the arrest.
South Wales Evening Post, 9 July 2012
As the NF's own report makes clear, the demonstration was directed against "Muslim rapists" and involved protestors brandishing placards featuring the popular racist slogan "Our children are not halal meat".