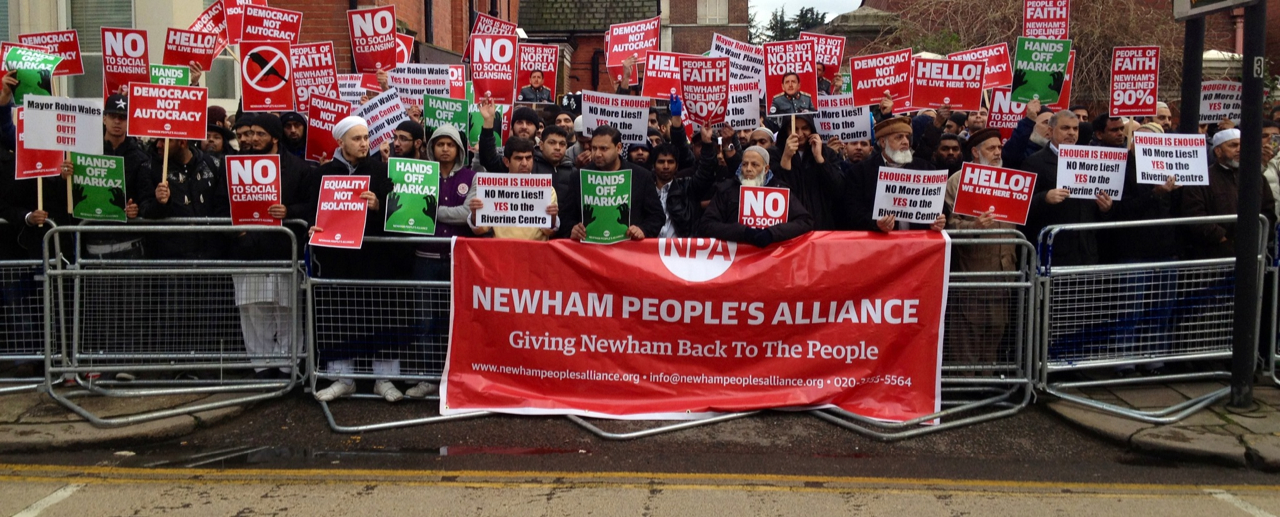 Last Friday Newham People's Alliance, which is committed to "fighting the institutional social and religious cleansing of Newham", organised a well-attended demonstration outside Newham Town Hall protesting against the local council's treatment of the Riverine Centre.
Newham Council is taking legal action to evict the Muslim organisation currently operating a temporary mosque on the Abbey Mills site, which is used by 2,500 people, and in December a council planning committee rejected proposals to build a permanent centre there – the so-called "mega-mosque".
A spokesman for the Trustees of the Riverine Centre was quoted by the Newham Recorder as opposing last week's demonstration and stating that Newham People's Alliance "have nothing to do with our organisation and they do not have our support".
Today the Recorder has published a statement from the Alliance, who say they are "a non-partisan multi-faith, multi-party pressure group formed to compel those in power into dialogue with the ordinary people of Newham" and that they "represent the working class majority who have been neglected by a mayor busy empire building at the expense of the most deprived and vulnerable people in his borough".
This is followed by a statement from Newham Council, which accuses the Alliance of busing people in from outside the borough to attend its protest and declares that the council "will not be bullied by a vocal minority into favouring one part of our community over others".