New plans have been revealed for a new mosque in Dudley on the controversial Hall Street site.
Previous plans for the site faced strong opposition from protestors who said the building would dominate the Dudley skyline, it sparked violent demonstrations in the town from the English Defence League in 2010.
The new design has been developed after consultation with town planners and features a shorter minaret, down from 109 feet to 61 feet, and the floor area of the building has been cut by 16 per cent.
The proposed mosque's designer, Al Samarraie of Archi-Structure (Consultant), said:
"The community has been at its existing site for over 35 years and the building is not fit for purpose, particularly for women, children, elderly and disabled people. The community want to build modern facilities that will be accessible to local people and offer a modern place of worship."
The is development is lower than the highest roof level of the adjacent Allan Nuttall's Limited warehouse and designed to be environmentally friendly with green living roofs.
The new mosque would replace the current facility in Birmingham Street and will provide community and sporting facilities in addition to a place of worship.
The plans will now go out for public consultation before being considered by Dudley Council's development control committee.
Dudley News, 18 September 2014
---
Here are EDL supporters breaking through police barriers during an anti-mosque protest in Dudley in April 2010: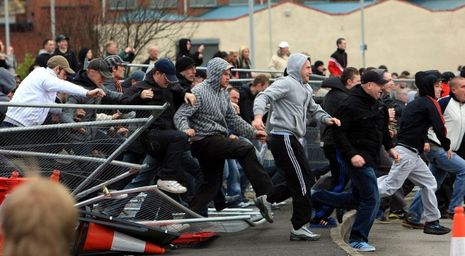 Here is the EDL's response to the latest news: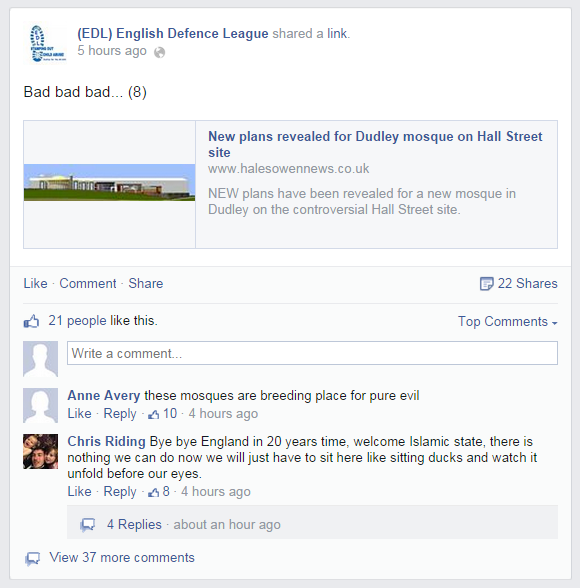 This has provoked the usual calls to pollute the site with dead pigs and "burn down all mosques with them all still in it".
Update:  See "New vision for Dudley mosque is backed", Express & Star, 3 November 2014
Update 2:  See "Rejecting plans for Dudley mosque will cost hundreds of thousands", Express & Star, 10 November 2014
Update 3:  See "Council planning committee gives go‑ahead for Dudley mosque", Islamophobia Watch, 10 November 2014